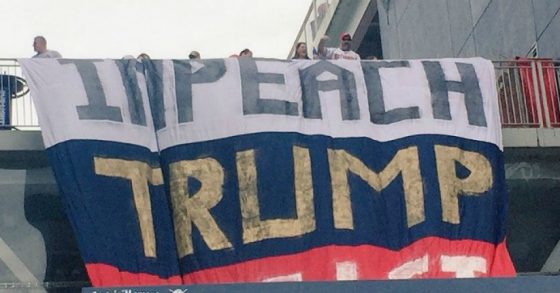 Donald Trump only has 7 days left in office and yet house democrats are desperate to have him removed before his time is up. Congress has voted to advance a resolution calling on Vice President Mike Pence to initiate a process under the 25th Amendment to remove Trump from office.
Pence has already objected to the move, yet democrats continue to push forward. We should all be asking why democrats are so intent upon making sure Trump is impeached a second time. But because the mainstream media cannot be bothered to do anything but brainwash the public with propaganda, we may never know.
The resolution cleared its first hurdle in the House after a 222-204 vote on Tuesday, with lawmakers voting along party lines. However, while no Republicans openly sided with their rivals across the aisle, seven GOP lawmakers did not cast a vote for the bill but have yet to weigh in publicly to explain their decision. As Congress convened to vote, Vice President Pence issued a statement signaling that he would not take up Democrats' request to invoke the 25th Amendment, saying the move would set a "terrible precedent" and would not be "in the best interest of our Nation," rendering the House resolution largely symbolic. –RT
As big of a deal as Democrats and the media are making this, it must be more than "largely symbolic." Some say it's so Trump cannot run for any public office again. But as we've been shown, elections are selections, the voters decide nothing and the ruling class with the help of central banking elitists will select who they want to rule over others. Others say it's so Trump won't incite violence anymore.  But again, Trump is now censored on every single platform and doesn't have the opportunity to even speak to the public much for the next 7 days.
So what gives? This could just be all a part of the distraction, or it could be a part of this massive psyop the government is working on right now:
FBI Warns: Armed Protests Planned For All 50 State Capitols
This one is an obvious psyop and they are really attempting to push people to violence and that will result in more gun control and a police state that will make Nazi Germany look tame by comparison. Stay as far away from these types of events as possible.
Stay alert and know what is going on. Take cues from the mainstream media.  They are telling us what they want us all to think and are doing the bidding of the ruling class.  Make sure your preps are in order and you have what you might need.  Be ready for anything because the rulers will do everything they can to keep us as slaves even as the system of oppression they set up falls. In fact, as more figure this out, they could get more desperate.