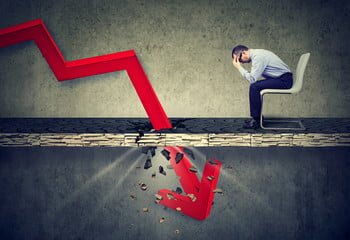 The Cboe (Chicago board options exchange) Volatility Index (VIX) is flashing warnings of a recession, even as cash equities race toward records.  This index is an indicator of an economic downturn and economists are warning people to "remain vigilant."
The VIX, or Wall Street's "fear gauge" is sending warning signs through the financial world. At just over 16, it's implying that U.S. stocks will tend to move more than 1 percent per day over the next month. In recent years, it hasn't lingered above this level unless equities were weakening, according to a report by Bloomberg.  Even as stocks soar, the VIX is increasing.
The higher reading belied the brisk advance of more than 2% for the S&P 500 Index over the same three-day stretch. It's the first time implied volatility has failed to decline amid stock gains of this magnitude since 2009, when the bull market was in its infancy. The two variables tend to move in opposite directions.

During Friday's 1.1% advance in the S&P 500, the VIX — which measures the 30-day implied volatility of the S&P 500 based on out-of-the-money options prices — also moved higher. That's despite the weekend effect that typically sees the gauge move lower on Fridays, and the passage of a market-moving event — the May non-farm payrolls report.-Bloomberg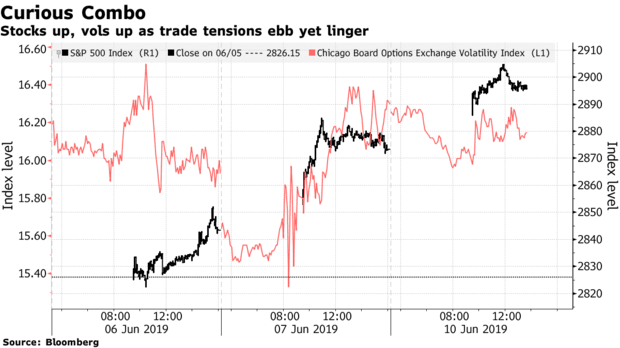 This is only the 11th time since 2004 that the VIX advanced while the stock benchmark rose at least 1%, according to Macro Risk Advisors derivatives strategist Vinay Viswanathan. "The options market is unwilling to lower its pricing of risk further despite impressive market strength,'' he wrote. "The stocks up/vol up move could be a sign from the option market that while equities were performing well, there is still plenty of risk worth protecting against (especially with China trade talks/G-20 lingering on the horizon).''
Pravit Chintawongvanich, Wells Fargo's equity derivatives strategist, said in a note that the fierceness of market rallies is contributing to firmness in the volatility index. For the most part, U.S. stocks have taken the staircase down from a record close on April 30 and rebounded via the elevator.
The VIX is warning that these stocks are due for a pullback says Jim Cramer according to CNBC. And any pullback in this inflated bubble economy could be disastrous, creating a ripple effect of epic proportions in the overall economy.
The VIX, says Cramer, gave clues that investors then were "still afraid," which preceded a month of "very ugly and choppy" trading in May, the host noted. "And given [Mark Sebastian's] recent track record reading the Volatility Index, I gotta take him seriously. He's been dead right," Cramer said. "He's not saying look out below, but he does say we're going to get some turbulence."
https://www.shtfplan.com/headline-news/6-vital-things-to-do-before-an-economic-collapse_06112019