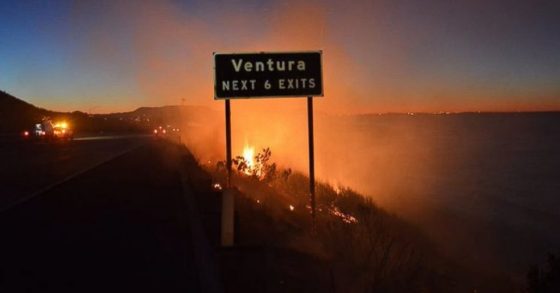 About 27,000 people have been evacuated and 150 structures destroyed in another raging fire in California. The fast-moving, wind-fueled wildfire swept into the city of Ventura early Tuesday, burning 31,000 acres so far.
Of the 150 structures engulfed by the flames, was at least one large apartment complex. Engulfed in flames, the Hawaiian Village Apartments collapsed about 4 a.m., local time. Water gushed down North Laurel Street as firefighters worked to put out the flaming complex and residents watched with their cameras and cellphones out. Residents could hear the sound of propane tanks bursting. Many other buildings are threatened as the fire crept about a quarter-mile away from City Hall. Traffic jams were also reported as many fled their homes.
The blaze started at about 6:25 p.m. Monday in the foothills near Thomas Aquinas College in Santa Paula, a popular hiking destination. It grew quickly to more than 15 square miles in the hours that followed, consuming vegetation that hasn't burned in decades, Ventura County Fire Sgt. Eric Buschow said.
April Vizzo-Tackett, who has lived in Ventura her whole life, told me this is Hawaiian Village Apartments, a large apartment complex. It's burning. Smoke billowing from the roof. #ThomasFire pic.twitter.com/ohiVEwR1Ar

— Jaclyn Cosgrove (@jaclyncosgrove) December 5, 2017
Firefighters set up strike teams along foothill communities in Ventura and Santa Paula as the Thomas fire, pushed by 50-mph winds, inched close to homes.  The firefighters worked through the night to keep the fire from spreading.   Fire officials said the intensity of the fire, coupled with the high winds, made it pretty much unstoppable.
"The prospects for containment are not good," Ventura County Fire Chief Mark Lorenzen said at a news conference. "Really, Mother Nature is going to decide." By 5:20 a.m. Tuesday, winds were pushing flames toward Ojai Valley, authorities said. "The fire is actively burning in the city of Ventura and there are homes and buildings actively burning at this time," Buschow said.
The Vista Del Mar Hospital, a psychiatric facility, was evacuated, authorities said. The area around a Ventura landmark called "Two Trees" has also burned. There have not been any human casualties reported yet, and more than 260,000 customers in Ventura and Santa Barbara counties were without power. As of 12:30 a.m. Tuesday, a Southern California Edison spokeswoman did not know when power could be restored.
Strong winds were pushing the blaze in a southwest direction toward Ventura and Highway 33, officials said. About 500 firefighters were battling the blaze, or on their way there to assist. Fixed-wing aircraft and water-dropping helicopters are expected to attack the fire at daybreak. Numerous spot fires erupted as a result of the difficult conditions.