The United States Department of Agriculture is set to purchase an unknown quantity of submachine guns, leading to questions about where the weapons will be heading and for what purpose they will be used.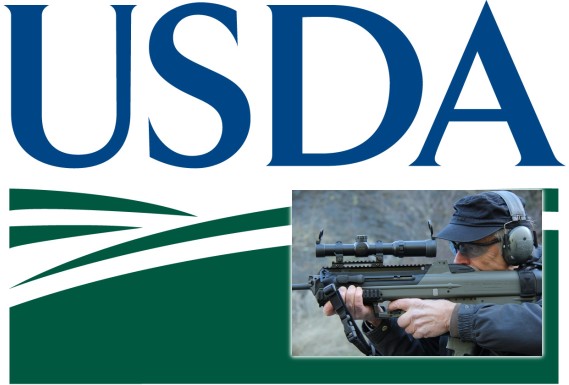 A solicitation (replete with spelling errors) posted on the Fed Biz Opps website states;
"The U.S. Department of Agriculture, Office of Inspector General, located in Washington, DC, pursuant to the authority of FAR Part 13, has a requirement for the commerical (sic) acquisition of submachine guns, .40 Cal. S&W, ambidextrous safety, semi-automatic or 2 shot burts (sic) trigger group, Tritium night sights for front and rear, rails for attachment of flashlight (front under fore grip) and scope (top rear), stock-collapsilbe (sic) or folding, magazine – 30 rd. capacity, sling, light weight, and oversized trigger guard for gloved operation."
Hopefully, those operating the semi-automatic weapons will be better skilled than whoever is writing solicitations on behalf of the USDA, but the fact that the law enforcement division of the United States Forest Service, which operates under the USDA, is not mentioned in the request has prompted some to questionwhere the guns will be going.
"They will no doubt attempt to justify their purchase of military hardware by explaining that they conduct criminal investigations and may need to do armed raids," writes Bob Owens, adding, "This is part of a trend to arm every branch of federal government, whether the individual agency has a legitimate need for a paramilitary force or not."
Concerns over large ammunition purchases by the Department of Homeland Security have raged over the past two years, although a recent Government Accountability Office investigation downplayed the issue as nothing out of the ordinary.
More pertinent than the amount of bullets purchased has been the type of ammunition and the DHS' insistence that companies be able to supply them quickly if needed, which some have linked to the federal agency's preparations for domestic unrest in the United States.
In May last year, the DHS sent out a request for information asking companies if they could provide 2 million bullets within a 30-60 day turnaround period.
In October 2013, the DHS acknowledged it was hiring armed guards to secure government buildings in the event of "public demonstration(s)" and "civil disturbances," while also spending half a million dollars on fully automatic pepper spray launchers and projectiles that are designed to be used during riot control situations.
In February last year, Law Enforcement Targets Inc., a contractor that had previously done $2 million dollars worth of business with the DHS, was forced to apologize after producing "no more hesitation" shooting targets which depicted pregnant women, children, and elderly gun owners in residential settings as "non-traditional threats."
More recently the DHS issued a solicitation for over 141,00 rounds of sniper ammunition, bullets known commercially as "Zombie Max," a reference to their high power.
Facebook @ https://www.facebook.com/paul.j.watson.71
FOLLOW Paul Joseph Watson @ https://twitter.com/PrisonPlanet
*********************
Paul Joseph Watson is the editor at large of Infowars.com and Prison Planet.com.