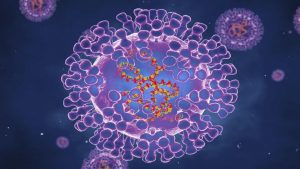 The mainstream media said that cases of monkeypox have doubled as the virus spreads between close contacts. So far, 45 cases have been reported, so the ruling class found it necessary to commander 300,000 more vaccines.
The United States has started shipping vaccines to multiple states to prevent the spread of the virus, which is endemic in parts of Africa but has recently started appearing in localized outbreaks in several European countries and several states in the U.S. Bavarian Nordic produces the two-dose Jynneos vaccine, which has been approved to help prevent smallpox and monkeypox in the U.S.
Is Monkeypox a Cover-Up For Vaccine Damages Like Shingles?
"Everyone reports a type of close contact that could be associated with direct skin-on-skin contact," Dr. Jennifer McQuiston, a Centers for Disease Control and Prevention official, said.
Symptoms can present as flu-like or through a rash on different body sites. And the beginning of another plandemic could be brewing right now especially as the media tries to convince the public that testing and vaccination for a disease affecting only 45 people living in a country with a population of 329.5 million.
With the increased spread of the disease, the CDC said Friday it was working to make testing and vaccination administration more convenient. There was a 45% increase in week-on-week testing, according to Dr. Raj Panjabi of the White House preparedness office.
"We have the tools to protect people from this disease," Panjabi said. "We have the vaccines and treatments we need to respond," O'Connell said, according to The Associated Press. The World Health Organization has not yet recommended mass vaccination, however, the United States continues to boost its supply of shots.
While monkeypox outbreaks in certain countries have started to expand, the virus is not likely to cause a global pandemic like the COVID scamdemic, Axios' Eileen Drage O'Reilly reports.
It has always been strange that in this day and age of limited supplies and supply chain disruptions that there's somehow always enough material to make syringes and needles for COVID-19 shots, and now monkeypox shots.