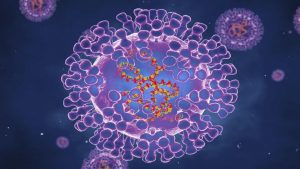 Monkeypox vaccines are now available for some people. More than 250 cases of monkeypox were detected across 16 countries as of May 22, according to the World Health Organization.
Dozens of more potential cases are still under review, according to the Centers for Disease Control and Prevention. The United States has one confirmed case so far this year, although the Centers for Disease Control and Prevention is monitoring four other suspected cases. While health experts are concerned about these cases, officials from the WHO and the CDC have also said that "this is not COVID," and these monkeypox outbreaks can be contained.
WHO: Monkeypox Can Be Contained
"We need to slow it down, but it does not spread in the air and we have vaccines to protect against it," said Dr. David Heymann, a leading WHO adviser, according to a report by Market Watch. The United States plans to release the Jynneos monkeypox vaccine, made by Bavarian Nordic from its national stockpile to help prevent the virus from spreading. The CDC says there are more than 1,000 doses available, and they expect that number to ramp up very quickly in the coming weeks.
The symptoms of monkeypox are similar to smallpox but milder. Most monkeypox patients experience minor flu-like symptoms such as fever, body aches, chills, and fatigue, while those with more serious cases could also develop rashes or other skin abrasions, which can include fluid-filled bumps or pox.
Most people recover within about two to four weeks without needing to be hospitalized. Monkeypox can be fatal for 3% to 6% of cases, however, and it is thought to be more severe in children, according to the World Health Organization.
"Human-to-human transmission is thought to occur primarily through large respiratory droplets. Respiratory droplets generally cannot travel more than a few feet, so prolonged face-to-face contact is required," the CDC adds. "Other human-to-human methods of transmission include direct contact with body fluids or lesion material, and indirect contact with lesion material, such as through contaminated clothing or linens."
There is currently no form of proven, safe treatment for the monkeypox virus, the CDC says, but there are vaccines that help prevent monkeypox infections.
Coincidence: Monkeypox Has Arrived In Time To "Save" 2 Smallpox Vaccine Companies
The ruling class and their puppets in the mainstream media all say the same thing. Monkeypox can be stopped if you just take yet another injection.