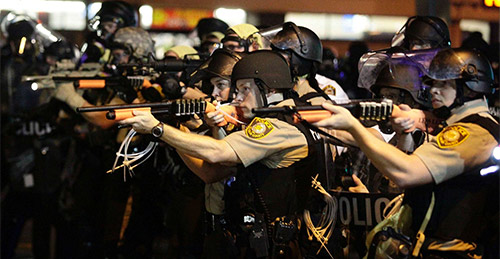 This article was written by Daisy Luther and originally published at TheOrganicPrepper.ca.
Editor's Comment: Though we are now past the election, and Donald Trump is officially scheduled to be the next president, we are hardly out of the woods. Division is now built into the American system.Left agitators, Black Lives Matter protesters, establishment lackeys and other types of operatives can all be counted on to stir up trouble. Topping that, terror attacks and natural disasters can create even greater chaos, and that is before taking into account the coming economic collapse.
The American people may not even know what hit them before all out warfare takes to the streets, complete with rioting, looting, violence, martial law and other derivative evils take hold.Those who aren't ready for the coming civil unrest could pay the price – left in the dark, without food and supplies and at the mercy of the federal government.
For those who find this unacceptable, there is another path – prepare for the worst, ready your family for what (could be) coming and hunker down to avoid the mayhem until some semblance of normalcy can return. Only by planning ahead can you keep things civil during widespread civil unrest. Here are some basic first steps:
The Prepper's Civil Unrest Checklist
by Daisy Luther
Civil unrest used to be something we read about online, happening in distant countries like Egypt or Brazil.
But more and more over the past few years, we've seen it erupt right here in the streets of America. The last thing you want to do is to be stuck in the middle of it, so the best thing you can do is to get prepared so you can ride out the storm from home.
We need to be ready for any unrest that comes our way.
The governments of Germany and the Czech Republic have told their citizens to stock up on food, water, and basic survival supplies in case of a national emergency. We need to be doing the same.
If you would like to take a class to help you prepare for this, you can learn more here. If you don't want to invest in a class, use this FREE handy checklist to make sure you'll have everything you need.
Civil Unrest Chaos Checklist
Make sure everything is in order. While it's unlikely that services like internet, electricity, and municipal water will be affected, it doesn't hurt to be ready for that possibility. The key here is to make certain you don't have to leave your home for the duration of the unrest, should it come your way.
Check your pantry and fill any gaps in your food preps.
Order emergency food buckets – if you order right away there is still time to get them before the election.
Get your water preps in order
Take this class: Prepping Crash Course: Getting Ready for Post-Election Chaos
Get cash in small denominations out of the bank.
Make sure you have enough garbage bags, pet supplies, and toiletries.
Pick up a copy of a comprehensive preparedness guide like The Prepper's Blueprint
Check your supply of candles, matches and lighters. (This article has more information)
Flashlight and spare batteries and/or dynamo wind up flashlights.
If you have an alternate heat source make sure you have enough fuel to power it
Make sure all electronics are fully charged and keep them charged during election day.
Make sure any cell phone battery packs are fully charged.
Fill up your gas tank up to the max.
If your vehicle isn't in a garage park it trunk end in as close to a wall as you can. This makes it harder to get to the tank to either steal the fuel or set fire to it.
Check your home security – walk around looking at your property as if you were a burglar and take appropriate action to improve security if required.
Have something on hand for the kids to do in case of school closures.
Make sure you have a fully stocked first aid kit and enough OTC medications to last the family for at least a month.
Check and clean your firearms and be prepared to defend your family if trouble comes to you
Pick up some extra ammo
Plan to keep pets indoors
Make sure you have enough of needed prescription medications to last a few weeks
As you can see, none of these preps is outrageous. They're all things that you'll use at some point if things remain peaceful. These preparations are reasonable and will stand you in good stead for any type of emergency.
I sincerely hope that America can pull together and that the divisiveness can end. But I don't foresee that happening any time soon.
Take the Crash Course
There's more information about prepping for civil unrest than I can possibly write about in one small article. For more information, I strongly urge you to join Lisa Bedford and myself over at Preppers University and get our Prepping Crash Course: Getting Ready for Civil Unrest. (Price is $21.95)
Learn how a crowd of people can become dangerous in a matter of minutes. Learn how to recognize the danger signs and know what places to avoid. This class will teach you how to get ready in 24 hours with the survival basics for civil unrest, how to get home safely, what to do if you're caught in the middle of a violent crowd, and how to hunker down as you wait for danger to pass.

Students receive a Panic Prepping Shopping List, an e-textbook of additional resources, and a recording of the 2-hour instructional class. Get the Course Here.
This article was written by Daisy Luther and originally published at TheOrganicPrepper.ca.