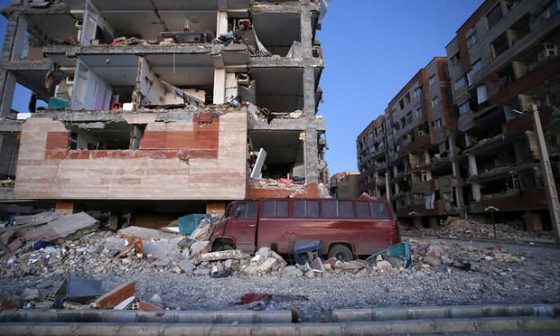 A large 6.3 magnitude earthquake struck just off the coast of Jacó, Costa Rica last night, only hours after a 7.3 Magnitude Quake struck the Iran/Iraq border killing at least 348 people.
Jacó is southwest of Costa Rica's capital, San Jose, and is part of the region of Puntarenas, on the Pacific Coast. The earthquake caused at least one building in Jacó to be evacuated due to apparent damage and there were reports of walls collapsing and objects falling in other parts of the country, but there were no reports of any further injuries, the statement said.  All hospitals seem to be running smoothly and normally too, according to CNN. But that all pales in comparison to the other major earthquake last night.
A large 7.3 magnitude quake struck the Iraq/Iran border tumbling buildings and killing 335 people. Iran's state-run Irna news agency raised the death toll to 341 on Monday and said 5,953 people were injured after the quake that struck the country's western provinces at 9.20 pm local time on Sunday. The quake also killed 7 people in Iraq bringing the total number of deaths to 348. The quake also injured 535 people in neighboring Iraq and, all in the country's northern, semi-autonomous Kurdish region, the interior ministry said.
The earthquake on the Iran border with Iraq happened a few hours before the earthquake in Costa Rica. The hardest hit province was Kermanshah, where three days of mourning have been announced. More than 236 people died in the town of Sarpol-e Zahab, about 10 miles from the Iraq border. "Sarpol-e Zahab has only one hospital, which was demolished in this incident. All patients and hospital staff have been buried beneath the rubble, so it cannot offer any service," Farhad Tajari, the local MP,  told local media.
Iran's supreme leader, Ayatollah Ali Khamenei, offered his condolences and urged government agencies to do all they could to help those affected. Iranian police, the elite Revolutionary Guards, and its affiliated Basij militia forces were dispatched to affected areas overnight, state TV reported.
"There are still people under the rubble. We hope the number of dead and injured won't rise too much, but it will rise," Kermanshah's deputy governor, Mojtaba Nikkerdar, said.