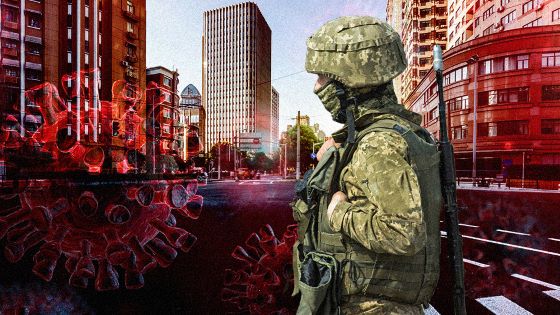 After a record surge in cases of COVID-19 have been reported, Madrid, Spain expands its lockdown to more than 1 million people in an effort to stop the "second wave." It is here, and we are being backed into a corner.
Yesterday, the Financial Times published a deep dive comparing Madrid's handling of the virus to New York City's. It appears some Bank of America analysts have followed that up with a chart comparing the various 'waves' of outbreaks, Sputnik reported.
The mainstream media continues to report on the surge in coronavirus cases, even though this "disease" is not nearly as deadly as the flu, by their own statistics. Yet, we are supposed to somehow buy into a second lockdown. Pay attention to what mainstream media focuses on and you will get an idea of what the ruling class has in store for us.  It looks like they are ginning up the fear for a second lockdown, and it could happen as soon as October.
They are attempting to manufacture your consent to be screwed over once again and using fear to do it.  Please don't fall for it:
Within Europe, both the UK and the EU's biggest economies are all struggling to curb spiking coronavirus cases and mounting hospitalization numbers without resorting to full-scale lockdowns like they did back in the spring. Yesterday, both the UK and France reported record-breaking tallies of new cases.

Now, Europe's biggest economies are struggling to bring the coronavirus back under control as hospitalizations and newly confirmed cases soar. After announcing new curbs earlier this month, Madrid's local government is expected to decide on Friday whether to expand restrictions on movement within the city of Madrid and its suburbs, with nearly 40% of ICU beds in the region around the Spanish capital filled with COVID-19 patients. France earlier this week just expanded restrictions in and around Marseilles.

Poland, which has continued to report record after record in terms of new cases, is expected to introduce new restrictions next week to combat the virus. –ZeroHedge
If you think this won't be coming back to the United States, think again. People willingly locked themselves in their homes the first time, and far too many have yet to wake up to the reality of the New World Order bein rolled out under the film of this scamdemic hoax.
Isreal has also tightened their second lockdown restrictions imposed late last week. Already, starting last week, articles have surfaced declaring the US. needs to lock down again as cases continue to soar (using bullshit tests, of course.) If you are allergic to propaganda, refrain from reading the following article, written by Foreign Affairs:
America Needs To Lockdown Again
Others say that the U.S. failed to implement the lockdown effectively, so another one will be needed. A second lockdown "must be implemented and enforced."
Keep your eyes and ears open, stay alert, continue to prepare, and don't live in fear.  We know there's no reason for another lockdown, but those pushing the agenda of the elites on the world are making sure we at least respect another one.  Whether or not we comply and go along with this tyrannical enslavement of humanity will be up to us.