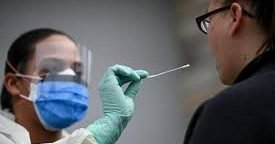 The state of Florida is coming under fire for not disclosing the negative COVID-19 test results. Investigative journalists found that 100% of the tests given came back positive for COVID-19.
Were there any negative tests at all? The mainstream media continues to use the increase in Florida's coronavirus cases to push the fear narrative, but there's now reports that some of these numbers are not being calculated accurately. Hundreds of facilities across the state are reporting a 100% positivity rate for COVID-19 test results. That means, every single person who got tested at these hospitals or labs, tested positive, according to My Sun Coast. 
We knew they were lying, but the extent the government is going to in order to keep these ridiculous mask laws and lockdowns in place at this point is just plain evil.
"This is a real problem because the percentage positive ratio is an important metric for reopening the economy and schools. If you add to the numerator and not to the denominator, you're biasing that ratio upwards, so we're getting misleading information. Even worse, now that people know about this, this is seriously undermining the credibility of the Florida Department of Health statistics, so we don't really know what's accurate and what's not accurate," explained Dr. Rebel Cole, a business professor at Florida Atlantic University, which is about to publish its own data tracker. –My Sun Coast
Labs like Quest Diagnostic did fall under this list. Their positivity rate was 100% when in fact, only 25% of their cases came back positive. The Florida Department of Health has even confirmed that close to 400 laboratories were not reporting negative COVID-19 test results to them.
"All COVID-19 cases are confirmed through diagnostic and antigen testing and then reported to the state by the labs performing the testing. Private and public laboratories are required to report positive and negative test results to the state immediately," the Florida Department of Health said Wednesday in a written statement.
The Science of Fear: How The Elitists Use it to Control Us & How to Break Free
The Food and Drug Administration has also now warned the public about trusting the positive results being reported by the mainstream media. They are only saying the false positives are 3%, and yet, you still won't hear this from them: there are a lot of false-positive coronavirus tests. Some studies show a 40% false-positive rate, and others show it as high as 80%.
We are being lied to and every single bit of data is being manipulated to fit the desired outcome that the ruling class needs to continue to run the dictatorship we now live in. The mainstream media continues to do their due diligence and promote the fear as well.
They need as many people as possible in a state of fear.  This has become crystal clear.  Do not fall for it. Stay focused, not panicked. Stay alert, not afraid. It's difficult to balance, but if you live in fear, you won't be able to save yourself or think clearly when you will need to.  Fear is one of the most contagious emotions, as we've seen in the past 6 months. While others insist you lose your mind and submit to the ruling class, keep your cool, and live your life.  That's the biggest middle finger you can give to a tyrant.