This article was originally published by Tyler Durden at ZeroHedge. 
After canceling almost 3,000 flights on Monday, Southwest Airlines Co. canceled thousands more on Tuesday due to adverse weather conditions and inadequate staffing.
Late Monday night, Chief Executive Officer Bob Jordan spoke with WSJ, who said, "In all likelihood, we'll have another tough day tomorrow as we work our way out of this." He added: "This is the largest-scale event that I've ever seen." 
Flight tracker FlightAware shows as of early Tuesday morning, the Dallas-based carrier canceled 2,510 flights, accounting for 62% of its schedule today.
Southwest released a statement about the continued travel chaos:
"With consecutive days of extreme winter weather across our network behind us, continuing challenges are impacting our Customers and Employees in a significant way that is unacceptable."
Southwest's cancellations prompted the US Department of Transportation to review. The agency was concerned about the airline's "unacceptable" rate of cancellations, delays, and lack of customer service.
USDOT is concerned by Southwest's unacceptable rate of cancellations and delays & reports of lack of prompt customer service. The Department will examine whether cancellations were controllable and if Southwest is complying with its customer service plan.

— TransportationGov (@USDOT) December 27, 2022
Shares of Southwest fell 3.5% in US premarket trading to $34.81 on the continuation of flight cancelations which may extend through Wednesday.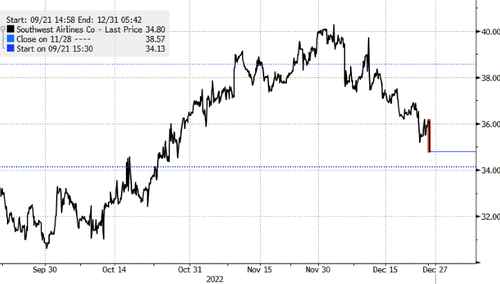 *   *   *
Southwest Airlines Co. canceled nearly 3,000 flights on Monday as a historic winter storm and inadequate staffing made for a perfect storm of holiday chaos the day after Christmas.
As of 9 PM on Monday, Southwest had canceled 2,882 flights – or 70% of its schedule, according to flightaware.com. Overall, 82% of Southwest flights were either canceled or delayed. By airport, Denver International saw 24% of flights canceled, while 29% were delayed.
Tomorrow is also slated to be a total mess, with over 2,400 Tuesday flights canceled.
Is it time for @USDOT to require Southwest the ability to rebook on other airlines during IROPS?

— Ross Feinstein (@RossFeinstein) December 27, 2022
"Yikes, @SouthwestAir! This is clearly a meltdown," tweeted former TSA official Ross Feinstein, who's been monitoring the situation.
.@SouthwestAir has now canceled 60% of their operation tomorrow, Dec. 27.

Today, Dec. 26, they have canceled 70% of their operation, and that number is increasing. https://t.co/TLaJRmE2NU

— Ross Feinstein (@RossFeinstein) December 27, 2022
@cbschicago @nbcchicago @ABC7Chicago @fox32news What is happening with Southwest at MDW? Cancelled flights for no flight staff, no customer service, exorbitant wait times on hold, people stranded, how are people getting their baggage from cancelled flights? Insanity. pic.twitter.com/KVPiIIFy9x

— Mary Harlow (@HarlowCRNA) December 26, 2022
A Southwest official, Chris Perry, told NPR that the disruptions are a result of the ongoing winter storm and that the company "stabilize and improve its operation" as the weather improves.
From Houston, Texas, and Tampa, Fla., to Cleveland, Ohio, and Denver, Colo., passengers are sharing photos and video of overwhelmed baggage claim areas and long lines at reservation counters. At Southwest, the customer service phone line's hold times averaged more than two hours, sometimes reaching four hours, according to Colorado Public Radio. -NPR
"I'm okay with these travel situations and fly on by myself when it's just me, but when my one-year-old has to suffer through it because of ineptitude and mismanagement, that becomes personal," said Southwest passenger Joshua Caudle, adding "I'm never going to do this with that company again."
James Baker, a #Southwest passenger, was flying from Sacramento to Buffalo for Christmas. His Buffalo flight ended up being canceled. Now he's trying to get back home, but has been stuck in Denver for days. @DenverChannel pic.twitter.com/8a9RIE85uD

— Brandon Richard (@BrandonLRichard) December 26, 2022
Big mess at BWI this morning. Over 100 flights cancelled so far this morning. People have been waiting in line at the Southwest ticketing counter for hours. Some people tell me they've waited since 2:30 this morning. People are sleeping all over the airport. @wbaltv11 pic.twitter.com/DPiIOdWwJG

— Breana Ross (@breanarossWBAL) December 26, 2022
Other problems include "connecting flight crews to their schedules," according to Perry, who said this has made it difficult for employees to participate in crew scheduling services and get reassignments.
A Southwest passenger who says she was attempting to fly from Missouri to Denver said she missed spending Christmas with her family after several delays and cancellations to flights out of the Kansas City International Airport. Despite her being grounded, her luggage was sent to Denver without her, she wrote on Twitter. -NPR
"This is really as bad as it gets for an airline," said Kyle Potter, executive editor of Thrifty Traveler, calling it a "full-blown meltdown."
"We've seen this again and again over the course of the last year or so, when airlines really just struggle, especially after a storm, but there's pretty clear skies across the country."
Southwest Airlines Disaster

Houston Hobby Airport

12/25@SouthwestAir #SouthwestAirlines #Southwest #southweststolechristmas #Houston pic.twitter.com/iO6ummEi6P

— JT (@jtmma567) December 26, 2022
Still stranded at the Vegas airport (24+ hrs, multiple canceled flights) This is the @SouthwestAir rebooking line. It wraps around and then goes all the way to the end of the room. It also doesn't move #Southwest #southweststolechristmas #southwestAir pic.twitter.com/OmCCuqLRn9

— Evan Knupp (@EvanKnupp) December 26, 2022
A Least 38 Dead As Looters Ravage Buffalo in Aftermath Of Blizzard