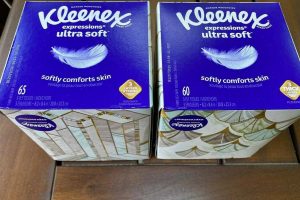 Shrinkflation is the practice of putting a product in a smaller container but selling it for the same price as the previous product in a larger container. It's happening all over the world right now and becoming more and more obvious by the day.
Globally, manufacturers have been shrinking their products lately without lowering prices. Shrinkflation is accelerating worldwide, The Associated Press reported Wednesday. One example, in the United States, a small box of Kleenex now has 60 tissues while a few months ago it had 65. The size of yogurts has also shrunk. In Britain, Nestle reduced its Nescafe Azera Americano coffee tins from 100 grams to 90 grams. In India, a bar of Vim dish soap has shrunk from 155 grams to 135 grams.
"It comes in waves. We happen to be in a tidal wave at the moment because of inflation," consumer advocate and former assistant attorney general in Massachusetts Edgar Dworsky told AP. He has documented shrinkflation on his Consumer World website for decades.
Food Prices Continue To Soar With No End In Sight
Some companies have been straightforward about the changes, blaming a sharp rise in the cost of raw materials. In Japan, snack maker Calbee announced a 10% weight reduction and a 10% price increase for many of its products in May, including veggie chips and crispy edamame.
The cost to deliver these food-like items or paper products is also rising as the cost of diesel continues to skyrocket. Even the mainstream media has decided to alert the public to the issues that could lead to food riots.
Even MSM Is Warning Soaring Diesel Prices Will Lead To Rising Cost of Food
It is only a matter of time before the entire food supply system, which relies on diesel, crumbles and we all are staring at starvation right in the face.
PREPPING FOR THE UPCOMING GOVERNMENT-INDUCED FOOD SHORTAGES
This is one of the most pressing issues to prepare for. People, especially in first-world countries have no idea how to cut back, fast, or eat less because the grocery store always has plenty of calorie-rich nutrient-deficient foods for them to consume. That is changing quickly, so make any last-minute preparations now.