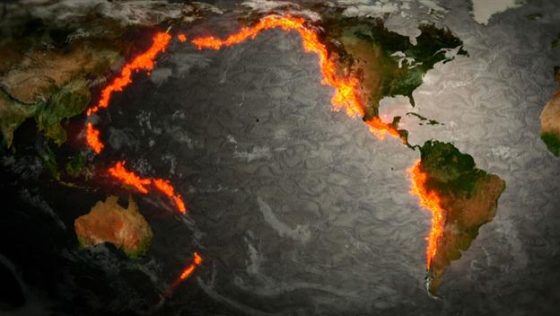 The ring of fire is on alert after Japan was rocked by an earthquake. The 5.1 magnitude quake is just one more in the past week that's made the area increasingly geologically unstable.
The Japan earthquake struck 46 miles from the town of Miyako, which is home to more than 50,000 people.  Morioka-shi, home to nearly 300,000 people, is 73 miles from the epicenter. It comes after a week of chaos in the region, with a volcanic eruption sparking a fatal avalanche in Japan earlier this week.  And still one other fairly major earthquake which measured at a 6.2 magnitude struck off the coast of Honshu at a depth of 24 miles.  Luckily, no damages or injuries were reported because of that earthquake.
However, a volcanic eruption in the Philippines forced mass evacuations just recently, while another in Japan kills one person. Across the Pacific, a 7.9 magnitude earthquake hits off Alaska. The spate of activity around the so-called Ring of Fire has raised concerns that a major and potentially deadly volcanic eruption or earthquake could be on the way.
According to Japan Today, earthquakes occur around the Ring of Fire on a daily basis, but the recent string of quakes and eruptions sparked talk of an uptick, with the U.N.'s Office for Disaster Risk Reduction tweeting that the Ring of Fire was active. "The Pacific Rim is in a period of activity," acknowledged Toshiyasu Nagao, head of Tokai University's Earthquake Prediction Research Center.  "In terms of volcanic history, however, the current activity is still regarded as normal," he told AFP. "It's not referred to as the 'ring of fire' because it sits there doing nothing… it is normal to have so much activity," tweeted volcanologist Janine Krippner.
The experts do not appear overly concerned about the activity on the Ring of Fire.  "Volcanic activity at each volcano is not correlated," said Yosuki Aoki, assistant professor of physical volcanology at the University of Tokyo. He also said volcanos "cycle through active and inactive periods, and this is part of it. I don't think something abnormal is taking place."
"This is pretty normal activity for Earth, the media is just reporting on more of them right now," Krippner added on her Twitter account.  Which makes one wonder why the media can't report on the massive corruption and major scandals in the FBI but have time to scare the public over some volcanic activity.
Nagao said the volcanic activity seen in Japan could continue, but that the region was experiencing a relatively quiet period for earthquakes. "In terms of earthquakes, the region is not that active now. There was an earthquake in Alaska the other day, but quakes with such strength have occurred regularly in the region."