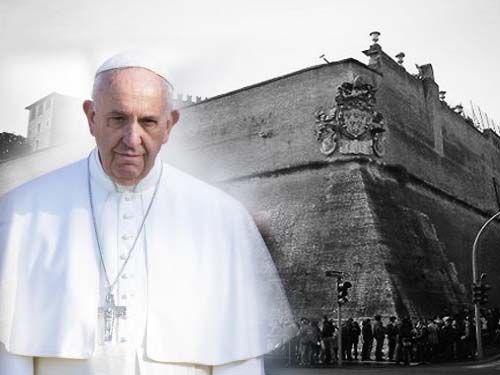 This article was written by Melissa Dykes and originally published at The Daily Sheeple.
Editor's Comment: This Pope has made himself very political, and yet has failed to criticize President Obama or Hillary Clinton for their roles in foreign policy genocide and targeted killings via drones, or any other morally despicable policies. Instead, Pope Francis has demonstrated support for expanded government powers under socialism, climate change regulation and unlimited illegal immigration – and generally supported the powers of force assumed by the State.
Instead Pope Francis has joined the bandwagon in the establishment to attack and demonize Donald Trump – for no other reason than the fact that he has dared to base his campaign rhetoric around strong national sovereignty and a vibrant American middle class. Because no other candidate in the race represents anything like those values, with the possible exception of Ted Cruz, the media voices and puppet authorities across the globe are sounded off on the need to stop Trump at any cost.
Just imagine if Trump hadn't vowed to build up a wall, but instead called to tear down a nation under the auspices of war. Who would be condemned then?
Pope, Who Lives in a Walled Citadel, Just Called Trump 'Unchristian' for Wanting to Build a Wall on the U.S.-Mexico Border
by Melissa Dykes
The elite want Donald Trump gone. Bad. So bad in fact they have called in the Pope to publicly condemn Trump for wanting to build a wall on the U.S.-Mexico border.
Pope says Trump is 'not Christian' for wanting to build a wall on U.S.-Mexico border https://t.co/uSFMh2bk5Z

— PBS NewsHour (@NewsHour) February 18, 2016
The Pope said:
"A person who thinks only about building walls, wherever they may be, and not building bridges, is not Christian. This is not in the Gospel."
Funny, isn't it? How much of a dog and pony puppet show this is? Now they've tapped the Pope to come out against Trump with about the weakest argument the Pope could make pretty much ever.
Here's a Pope who came over to the U.S. just a few months ago laughing and smiling with Obama and said nothing about the current president's stance on, oh, I dunno, the murdering of thousands of innocent people (including women, children, the elderly) via drone strikes in undeclared wars in the Middle East or the president's pro-Planned Parenthood stance despite the fact that they aborted over 320,000 babies last year alone and have reportedly made $23 million annually on the sale of harvested baby parts.  No, that's all good and fine to the Pope… but going against the Establishment's plan for a one world government via the breakdown of national sovereignty everywhere by forced mass immigration, unconstitutional offensive wars, and tyrannical trade agreements? Count him in.  Besides that, as it has been pointed out by many, the Pope lives in a WALLED CITADEL:
It must be easier to tell others to live without secure borders when you lived in a walled city and have security guards constantly protecting your life? He is completely surrounded by… WALLS!!!
So,The Vatican Will Be REMOVING It's Wall & Allowing Islamic Illegal Aliens to Stay in the Papal Residence… https://t.co/pP28Spyo05

— Paratisi (@Paratisi) February 18, 2016
Even Piers Morgan, who routinely flaunts his horrible politics on Twitter, couldn't find it within himself to agree with this Pope:
Are all laws preventing illegal immigrants entering a country now deemed anti-Christian? I fear the Pope's opened a can of worms here…

— Piers Morgan (@piersmorgan) February 18, 2016
Then again, they've promised this Pope he could be the Pope for the one world religion, so…
"They are using the Pope as a pawn," Donald Trump responded. (Yeah, obviously.) "For a religious leader to question a person's faith is disgraceful," Trump noted, which is a much more respectful response than what a lot of people would have said to such a total and utter hypocrite.
Read more:
"A Whole Universe of Security": NYC on Police State Lockdown Ahead of Pope's Visit
The Pope's 3 Biggest Hypocrisies Since He Came to America
Perfectly Timed Photo of Obama with "Horns" Next to Pope