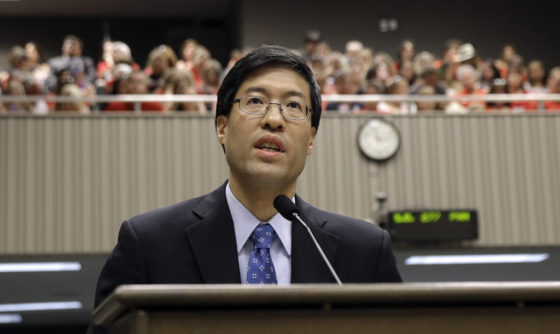 If you've been paying attention, you knew this day was coming. If you receive the mRNA vaccine, that isn't really a vaccine but gene therapy you are a "domestic terrorist" according to your ruling class masters.
California State Senator Richard Pan, D-Sacramento, introduced SB 742, which would place limitations on vaccine site protests. The law is modeled after a 2012 state law that limits protests at funerals. Harmeet Dhillon, an attorney, and CEO of Center for American Liberties says the bill goes too far, according to a report by GV Wire. 
"Protesting those sites is a First Amendment-protected activity," Dhillon said. "It prohibits 'picketing targeted at a vaccination site,' and that could be interpreted under First Amendment law as a viewpoint-based discrimination." But Pan doesn't give a damn. He's a pro-vaccine advocate who wants everyone vaccinated the second big pharma comes up with another concoction to stick us with and he won't stop until we are all vaccinated or the power structure in place crumbles.
COVID-19 mRNA Shots Are Legally Not Vaccines
Pan recently wrote an opinion article labeling those who dare to want the freedom to decide what's injected into their bodies as "domestic terrorists." The real domestic terrorists are huddled together behind the national guard in Washington D.C.  As more people figure this out and break free from their mental prisons, totalitarians like Pan will fall by the wayside.  Until then, the masters will push the slaves as hard as they can.
"This campaign to deny potentially life-saving vaccines to those seeking them, and to poison public opinion against vaccinations, could result in countless American deaths. That is akin to domestic terrorism," Pan wrote.

Pan has also criticized Facebook and other social media groups for allowing vaccine skeptics to post their views.

"This movement not only puts out mis- or disinformation about vaccines or lies about vaccines, which in itself can be harmful, but they are also aggressively bullying, threatening and intimidating people who are trying to share accurate information about vaccines," Pan told the New York Times.
But forcing a vaccine that's killing and injuring people at epic rates is not domestic terrorism?
Reports of Deaths and Injuries After Taking Experimental Coronavirus Vaccines Keep Coming In
It's time to wake up, folks. These people see us as human cattle to be used and abused for their own power, greed, and wealth. Stay alert, use critical thinking skills (even though the propaganda outlets continue to tell you not to), and stay prepared.  As people wake up, these tyrants lose power, and they will likely try to pull off something else to keep everyone panicked and in fear.  Especially since their "mutation" stories are falling apart.
More COIVD-19 Vax Deaths: Think They'll Blame This On COVID-21?
The Science of Fear: How The Elitists Use it to Control Us & How to Break Free