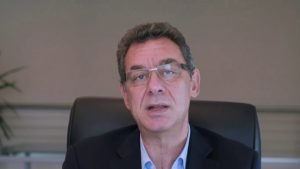 The CEO of Pfizer has now said that those who dislike his product, the COIVD-19 "vaccine," are guilty of spreading "misinformation" and are criminals. Albert Bourla said that he considers the spreaders of information that goes against his company's shots as criminals and he blamed them for the loss of "millions of lives" to COVID-19.
This is now the world we live in, folks. "Those people are criminals," Bourla said. "They're not bad people. They're criminals because they have literally cost millions of lives." Furthermore, Bourla stressed that greater rates of vaccination are the only thing that will bring the pandemic era to a close, according to a report by Newsweek.
And, just in case you need more evidence that these shots are a piece of their enslavement agenda, here's what Bourla had to say in addition to calling those who don't like his product criminals:
"The only thing that stands between the new way of life and the current way of life is, frankly, hesitancy to vaccinations," he said. Meaning, the only thing between the total and permanent enslavement of mankind is vaccine hesitancy.
Well then, we don't want your new way of life. What life would that be anyway? Having to get injected upon demand and being a slave with no chance of escape? If you want to know who the real criminal is, it's Bourla. Using hired thugs (the U.S. government) to force shots in people with no liability is criminal on a scale that can't be measured.
Big Pharma Will Not Be Responsible For COVID-19 Side Effects Caused By Vaccines
Also, Google itself will take you to a National Institute of Health site that says Pfizer is a criminal organization and a habitual offender.
Pfizer has been a "habitual offender," persistently engaging in illegal and corrupt marketing practices, bribing physicians and suppressing adverse trial results. Since 2002 the company and its subsidiaries have been assessed $3 billion in criminal convictions, civil penalties and jury awards. The $2.3-billion settlement in September 2009 – a month before Dr. Prigent's appointment – set a new record for both criminal fines and total penalties. –US National Library of Medicine
National Institutes of Health
And we're the criminals for daring to stand up to these criminals? We are living in the literal definition of a dystopia. We need to realize what's going on and stop letting these few sociopaths control humanity.
Bourla recently asked the government to make sure they give "broader authorization" to his booster shots as well. The shots that are being shown to destroy the immune system and the more you take, the faster the decline:
COVID-19 Jabs Have "Real-World" Immunity of MINUS 73%, Meaning People Are LOSING IMMUNITY
Comparison of Official Government Reports Suggest Fully Vaccinated Are Developing Acquired Immunodeficiency Syndrome
We have to stop living in fear and band together. There is no political solution. No vote will get us out of this and that should be more than obvious by now.  The solution is to wake up to the fact that we were born as slaves to a slave state and are being controlled by masters who only want our compliance. Once enough people figure that out we can finally wipe slavery off the face of the planet for good.  It starts with knowing that no one makes a rightful master and no one makes a rightful slave.
Reformation of the slave state will not help. Government is slavery. Slavery needs to be abolished for good. Be the free human you were born to be.