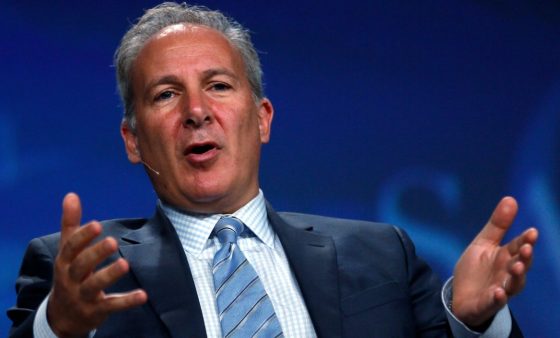 Peter Schiff has been saying that this is a bear market for a few weeks now, and it looks like president Donald Trump may have just gotten the same memo. While Trump said some investors may feel some "short-term pain" in the market, but Schiff says it's actually going to be long-term pain.
According to Seeking Alpha, Trump says any short-term market pains will all be worth it because we will get long-term gain, referring to the benefits we'll reap when we win the trade war. In his most recent podcast, Peter said that's not at all how it's going to play out, though.
"We're going to have short-term pain and then the pain is going to get worse in the long-run," Schiff said.  Schiff is a financial and market analyst who predicted the 2008 recession. But Schiff says the bigger problem, is that nobody is ready for any pain at all.
Schiff says that the real problem is the government itself. Policymakers aren't willing to take the steps necessary to reap long-term benefits. Those steps would have to include a major cut in government spending, a cut in entitlements, cutting defense spending, and shutting down government agencies and government departments. And we couldn't agree more.  Government spending is out of control and people struggle to get by with the tax burden levied on them, and that will only worsen when a Democrat takes power.
There would be some short-term pain that would deliver some long-term gain. How about if the Fed normalizes interest rates and lets the bubbles collapse, lets people lose money, lets the markets restructure? That is short-term pain for long-term gain. That is what a real free-market recession is like. Let the government get out of the way. Let the central bankers get out of the way, and let the free market correct the imbalances and create a good foundation where we can build a lasting, sustainable, viable recovery.
But Schiff says that's not what President Trump is all about. He's about avoiding the short-term pain by kicking the can down the road, just like every other president in modern history.
This is a time bomb. The debt keeps going up. Every day we're closer to the crisis. Every day there is more and more debt, right? And so, every day that goes by, we're one day closer to the debt imploding.
Schiff went on to detail what will go wrong if the Fed decides to make a move that no one is expecting.
Normally the markets are forward-looking. They discount things that they think are going to happen. Well, if you don't think something is going to happen, how can it be discounted? So, it's when the markets are blindsided, when they're surprised, that's when you see the biggest moves because they didn't get discounted in advance. You can't buy the rumor and sell the fact if you've never bought the rumor because you don't know there's a rumor or you don't believe it. So when the fact happens, nobody is positioned for it. Nobody is prepared for it. And that's where we are in the gold market. That's where we are in the gold stock market, in the bond market, in the US stock market. Nobody is prepared for any of the things that are going to happen because nobody believes that they are going to happen.
And Schiff says don't get too attached to your tax cut if you actually benefited from it.  Once the Democrats take the White House and both houses of Congress, those tax cuts will not only go away but be raised substantially to pay for even more democrat government spending.