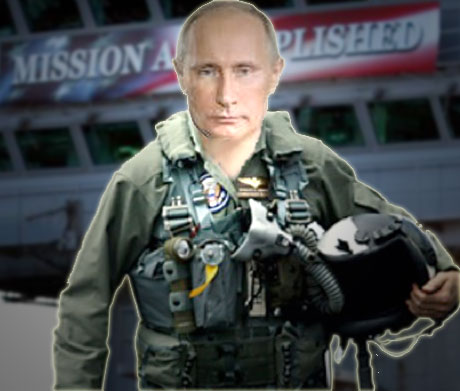 Now it is Putin's "Mission Accomplished" moment in the Middle East.
Who can say what Putin's long term objectives are, but regardless, he has won this round.
His decision to bring Russian troops into Syria has weakened ISIS, secured Assad's regime (for now) and put American aggression into check.
Perhaps the ceasefire in Syria means that WWIII has also been averted, or at least delayed.
Russian President Vladimir Putin has ordered Defense Minister Sergey Shoigu to start the withdrawal of forces from Syria starting Tuesday. Russia will however keep a military presence at the port of Tartus and at the Khmeimim airbase to observe ceasefire agreements.

"I consider the objectives that have been set for the Defense Ministry to be generally accomplished. That is why I order to start withdrawal of the main part of our military group from the territory of the Syrian Arab Republic starting from tomorrow," Putin said on Monday during a meeting with Shoigu and Russian Foreign Minister Sergey Lavrov.

"In a short period of time Russia has created a small but very effective military group [in Syria]… the effective work of our military allowed the peace process to begin," Putin said, adding that with the assistance of the Russian Air Force "Syrian government troops and patriotic forces have changed the situation in the fight with international terrorism and have ceased the initiative."
The global chess game is hardly over, but President Putin managed to time his moves with the precision of a master. For all its heightened rhetoric, the other side blinked on the supposed "red line" in Syria.
After Vladimir Putin spent considerable effort politely calling out the hoax behind the ISIS crisis in Iraq and Syria – which has been covertly supported by the U.S. and 40 other countries, many of whom belong to NATO – the White House eventually seemed reticent to even go on pretending that it has a case against Assad, or a moral position in the rise of ISIS.
Seemingly, the entire broiling situation has been defused… for the moment anyway.
Erdogan, not Putin, has been caught engaging in a charade, pretending to fight against ISIS while in actuality funding and fueling their rise in the Middle East. It was Turkey who lost all legitimacy as a result of shooting down Russian planes, not the other way around.
The double game was revealed, and Assad is clearly relieved at the "save" on Putin's part. For Assad, it can't take much imagination to watch Saddam Hussein and Gaddafi go down, and know that they had plans for him next.
[During a] phone conversation between Vladimir Putin and Syria's President Bashar Assad … [t]he two leaders agreed that the actions of Russia's Air Force in Syria have allowed them to "profoundly reverse the situation" in connection to fighting terrorists in the region, having "disorganized militants' infrastructure and inflicted fundamental damage upon them."

[…]

Moscow launched its anti-terror campaign in Syria on September 30 last year. Russia's participation in the operation, according to a previous statement by Putin, has its basis in international law and has been conducted "in accordance with an official request from the president of the Syrian Arab Republic [Bashar Assad]."

The Russian Air Force has been carrying out airstrikes against Islamic State (IS, formerly ISIS/ISIL) and other terrorist targets in the region, eliminating military equipment, communication centers, vehicles, arms and fuel depots.
As many recall, Putin's war on terrorism quickly made a mockery out of Obama and Bush's War on Terror, which has raged on for 15 years only to face setbacks and blowback that has created many fold more terrorists than the region started with.
As RT reported, Putin's air forces have essentially liberated Syria from terrorist domination, destroyed ISIS petroleum routes to Turkey and ousted them from 400 populated areas… while the U.S. hyped up the threat of ISIS but did little to nothing to stop them:
"Backed by our aviation, Syrian forces have freed 400 populated areas and over 10,000 square kilometers [3,860 square miles] of territories," Shoigu said during a Kremlin meeting with Russia's President Vladimir Putin on Monday.

Terrorists have been forced out from Latakia and Aleppo, and Palmyra has been "blocked," the military official reported to Putin, saying that military actions to free the UNESCO heritage site from militants continue. Hama and Homs Provinces in central Syria have been largely mopped up, and Kuweires airbase that had been besieged by terrorists for over three years was retaken.

Saying that Russia's Air Force in Syria has conducted more than 9,000 sorties starting from September 30, 2015 […] "As a result of airstrikes, terrorists' resources' provision has been largely cut," Shoigu told Putin, saying that petroleum trade routes with Turkey, as well as main routes of weapons provisions to terrorists have been blocked.
Nevertheless, the world is hardly peaceful, and with so much angst over the sour deal with Iran and the rise of Trump-lican politics, people would be best to stay on watch for nasty tricks and devilish surprises.
Read more:
Putin Asks U.S. to Help "Wipe ISIS from Face of the Earth"
US Complains As Putin Bombs its Terrorists: "ISIS Is An Intentional Creation of U.S."
Watch Putin Hammer Obama: "Not Grounded In The Real World… Absolutely Unprofessional Politics"
New Patch for U.S. Troops Fighting ISIS… Looks Like ISIS Logo