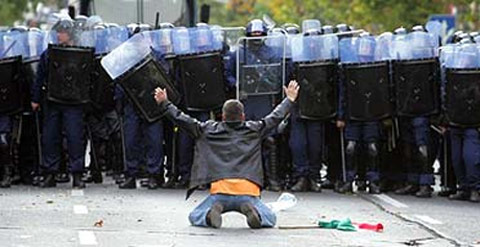 If you disobey master Andrew Cuomo and comrade Bill de Blasio in New York City, you could be extorted for up to $150,000.  The tyrannical rollout is here, and it is coming soon to another city near you.
Brace yourself. This isn't going to stop in New York, it is only being rolled out there first. Many of the over $150,000 worth of fines to be extorted will come from religious groups dare to worship and gather as they please, which is a basic fundamental human right.  The New York City government announced 62 summonses and over $150,000 in fines since Friday during pandemic-related closures and restrictions, the city said in a Sunday tweet.
The penalties, which were levied by "City agents in the Red, Orange and Yellow zones," included five issued to religious congregations, reported CNN. They are trying to scare people into obedience.
New York City Mayor Bill de Blasio announced last week that the fines for mass gatherings in violation of state rules would be up to $15,000 a day, and the fines for not wearing face coverings and maintaining social distancing could be $1,000 a day. –CNN
David Icke To LEOs & Military: Look Your Children In The Eye & Tell Them YOU Enforced Tyranny
From Friday to now, over $150,000 in fines from 62 summonses were handed out by City agents in the Red, Orange and Yellow zones, including 5 to non-compliant religious congregations.

— City of New York (@nycgov) October 11, 2020
Sadly, many are in support of this abject tyranny and want their fellow humans to be enslaved. But others are starting to stand up to governments.
new york is broke ,they're now robbing citizens for nothing

— ultra_maga_1776 (@64Bosox) October 12, 2020
This is a big experiment to see if people will comply with any edict and command of the politicians. Look no further than Australia to see our future unless people start to figure this out.
Australia is a Full-Scale Pilot Test For The New World Order
The fines come amid a new COVID crackdown targeting clusters that have contributed to a doubling of hospitalizations statewide in just a month. Statewide, 878 people were hospitalized as of Monday, the highest total since July 1.

New York C -ity sheriffs deputies cited five religious institutions in the Borough Park section of Brooklyn for violating the city health code by holding a gathering of more than 10 people. Each violation carries a $15,000 fine. –NBC New York
Stay alert and prepared. This is ramping up again.