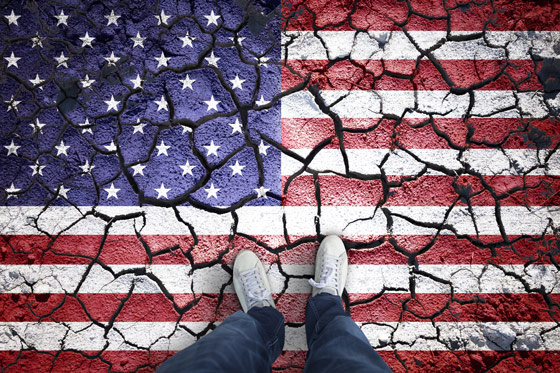 A new poll found that white Americans feel that "discrimination against white people exists in the U.S. today."  Over half of those surveyed said that they believe white people are also facing discrimination.
Conducted by NPR, the Robert Wood Johnson Foundation, and the Harvard T.H. Chan School of Public Health, the new polling data found that 55% of whites surveyed believe that "discrimination against white people" is a part of American society.
More than half of white Americans say there's discrimination against whites because of race. https://t.co/XHZtAaFC3N pic.twitter.com/eQTUwxnT1I

— NPR (@NPR) October 24, 2017
Among whites, 19% said they've "been personally discriminated against" because of their race when applying for jobs, while 11% said it occurred when applying to or while at college. Thirteen percent of whites said they experienced discrimination when being considered for equal pay or promotion at work.
"If you apply for a job, they seem to give the blacks the first crack at it," said 68-year-old Tim Hershman of Akron, Ohio, "and, basically, you know, if you want any help from the government, if you're white, you don't get it. If you're black, you get it."
According to NPR, income seemed to "affect individual responses to the question of discrimination," with those making less money "more likely to say that whites are discriminated against."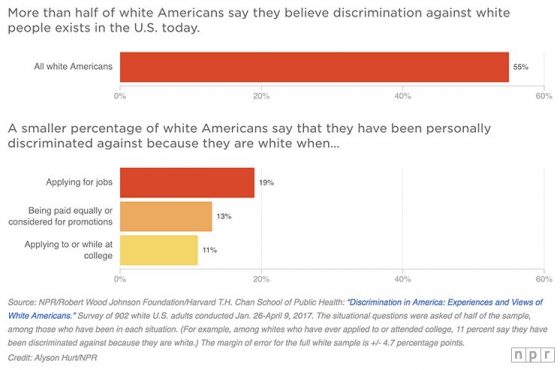 The poll, which sampled 3,453 adults, only 902 of whom were white, was conducted Jan. 26-April 9, 2017. But all groups surveyed are claiming discrimination at some level.
When asked if discrimination against their own group exists, 78% of Latinos say that discrimination against Latinos exists.
Approximately 75% of Native Americans, 61% of Asian Americans and 90% of people who identify as LGBTQ said that discrimination existed against their own groups exists in America.
 92% of African Americans surveyed said that they believe "that discrimination against African Americans exists in America today."
Discrimination is an unfortunate piece of the human condition and no law or excessive tax or communist wealth redistribution scheme will change it.  But humanity can do better without government mandates.  We can treat people the way we'd like to be treated, regardless of the exterior packaging.