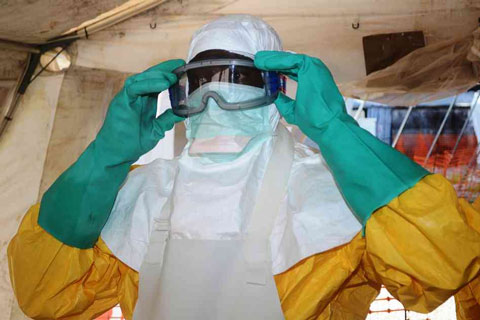 The threat from ebola remains quite real, and there is legitimate concern over whether or not the world's health experts are really capable of containing it.
The West African nation of Liberia has once again been reminded that it must remain vigilant and mindful of the terrible power that ebola has in its capacity to transform into a deadly epidemic.
Just months after being declared ebola free – twice now – the country has again been plagued by new cases.
Authorities aren't sure how the recent outbreak of ebola happened, but know that it could once again be spreading. Live Science reports:
The death of a 15-year-old boy from Ebola in Liberia — a country that has been declared free of the disease twice — raises the question of why cases are still popping up in the country, experts say.

The teenager, who died Tuesday (Nov. 24), tested positive for the disease last week. His brother and father are also infected, and more than 150 people with whom the boy may have come into contact are now being monitored, according to Reuters. 

"This is concerning and somewhat surprising," said Dr. Amesh Adalja, an infectious-disease specialist and a senior associate at the University of Pittsburgh Medical Center's Center for Health Security.
Among other factors, health workers learned during the most recent outbreaks that the virus for ebola can turn up in sperm long after the ordinary incubation period and/or recovery, and can be spread through sexual contact – even six months later:
Ebola could be sexually transmitted as much as six months or more after a patient has fully recovered from the disease, the World Health Organization (WHO) and U.S. Centers for Disease Control (CDC) have now warned based on recent findings. Until further notice, the agencies said, Ebola survivors should make sure they use safer sex practices, such as those effective at protecting against the transmission of HIV.

[…]

Although there had been prior evidence that Ebola might be transmitted sexually, experts said the sheer scale of the Ebola outbreak made it impossible to test that hypothesis. Now, with fewer people falling sick, researchers are better able to trace suspected cases. In addition, the WHO, CDC and Sierra Leone's health ministry are now planning a study to test how long the Ebola virus remains in the semen, urine, breast milk and other bodily fluids of survivors following a negative blood test.

"The problem is we haven't looked at a large number of cases," said CDC Ebola researcher Stuart Nichol.

If Ebola is indeed sexually transmissible – even if such transmission is rare – the epidemic could actually be far from over. (Natural News)
It is unknown whether or not human bodily fluids like sperm played a factor in the most recent cases of ebola, but authorities are once again concerned about it spreading.
As we witnessed, the United States is all too susceptible to an ebola outbreak if it is once again imported into the country by a patient, whether or not they know they are carrying the disease.
It only takes one mistake for things to get crazy.
The CDC and powers that be are either unable or unwilling to protect the country, and may well profit from the control that would follow such a frightful disaster. With the help of America's Ebola Czar, the real problems were hidden and Americans' attention was diverted elsewhere – but the threat remains, and could quickly become very serious.
Here's a look at what to have prepared in the case of such an eventuality resurfacing here at home:
What You Can Do To Prepare
In The Prepper's Blueprint, Tess Pennington outlines various Pandemic Preparedness tips.
Among her instructions for creating a sick room, Pennington recommends a basic supply list.

Basic Pandemic Preparedness Supply List

N-100 face masks (Recommended mask rating from World Health Organization)
Fluids and electrolytes
Pain relievers
Hand sanitizer
Garbage bags
Plenty of extra food in case of business shutdowns.
But she also notes that a pandemic event will likely lead to significant shutdowns for businesses, government offices, potentially even your doctor's office, so preparing for that is also an important consideration. And that includes having emergency food, water and other supplies on hand, because the last thing you want to do is have to leave home when those in your town or neighborhood could be carriers of a deadly disease.
Read more:
Video: Model Shows How Ebola Will Spread: "It Only Takes One Infected Individual Making It Through An Airport Checkpoint"
What Is Not Being Said Publicly: Ebola Virus's Hyper-Evolution is Unprecedented… Could Go Airborne
Ebola Confirmed in America: Here's What You Need To Do Right Now
Hospitals Prep For Ebola Outbreak: Cases May Exceed 100,000 By December: "The Numbers Are Really Scary"