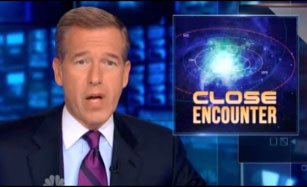 On May 31, 2013 asteroid 1998-QE2 will be passing earth at a distance of approximately 3.6 million miles. The asteroid, believed to be a remnant of a comet, is about 1.7 miles wide, making it big enough to be a "global killer" should it ever strike earth. But because its trajectory puts it at about 15 times further away from the earth than the moon, astronomers say there's no chance it'll hit our planet on this pass.
NBC Nightly News, however, has advised viewers to get ready for 1998-QE2's imminent fly-by:
Circle May 31st on the calendar just to be on the safe side.

…

While scientists think it's a safe distance – in other words what could go wrong – it's probably best to stock up on canned goods none the less.
Video via The Daily Sheeple:
(Alternate video link via Rense.com)
As noted by Steve Quayle earlier this week, four massive fireballs within a 24 hour period were spotted over different parts of the United States according to the American Meteor Society. And just last week we received reports from NASA that they recorded the largest meteorite strike on the moon in about a decade – an event that was coordinated with parallel strikes on earth during the same time period.
It's clear that 1998-QE2 will miss earth by a fairly significant distance, so there is no threat from a direct impact. But, with our limited ability to monitor the skies for asteroid threats, it's theoretically possible, though not confirmed, that there are companion objects moving along with 1998-QE2.
Emergency planners have been simulating the possibility of an asteroid strike on earth in recent years, so it's not out of the question that such a scenario could unfold in the future.
Chances are it won't happen on May 31, 2013. But, of course, were a massive asteroid headed our way it would, in all likelihood, be kept a secret from the citizens of earth until the last minute.
Whatever the case, it's always good practice to have some canned goods on hand, along with preparedness items that include reserve water considerations, self defense armaments, and other critical supplies.