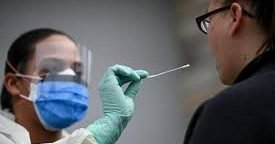 China has expanded the rollout of anal swabbing to test for COVID-19, saying these tests are more reliable. Also more invasive, and probably a lot more uncomfortable too.
For those in quarantine, China will use an anal swab to determine if the virus is still present. Chinese state media outlets introduced the new protocol in recent days, prompting widespread discussion and some outrage. Some Chinese doctors say the science is there though, and as the peasants, we should just accept the science.
Here's the likely reason they are using these swabs instead:
Recovering patients, they say, have continued to test positive through samples from the lower digestive tract days after nasal and throat swabs came back negative. -Washington Post
Why would they want so many positive tests? To keep the narrative going, of course.
Covid "Mutation" Stories Show That The Lockdowns Are Designed To Last Forever
for many, it seemed a step too far in government intrusions after a year and counting of a dignity-eroding pandemic.
"Everyone involved will be so embarrassed," one user in Guangdong province said on Weibo, a Chinese social media platform, on Wednesday. In a Weibo poll, 80 percent of respondents said they "could not accept" the invasive method.
So now we know that anal swabs might finally be where the sheep draw the line.
Because of the invasive nature of these tests, they are only being used at quarantine centers…for now. If we have learned anything over the last year, it's that the ruling class will push and they will be successful unless people wake up.
"If we add anal swab testing, it can raise our rate of identifying infected patients," Li Tongzeng, an infectious-disease specialist at Beijing You'an Hospital, said on state-run broadcaster CCTV on Sunday. "But of course considering that collecting anal swabs is not as convenient as throat swabs, at the moment only key groups such as those in quarantine receive both."
Officials have tightened restrictions in recent weeks, with tens of millions of people returned to lockdown in areas with isolated outbreaks, according to The Washington Post.  As before, travelers arriving from overseas go straight into two weeks of hotel quarantine — but now the third week of home quarantine has been added, and the fourth week of daily reports to health officials.