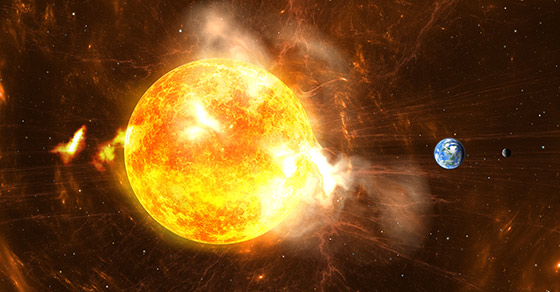 NASA has released a graphic showing a rip in the fabric of the sun, so to speak, that is leaking solar radiation through a hole in its surface.
This is sending a bombardment of particles towards earth that could interfere with the electric grid and disrupt any technologies that are electromagnetic based.
The experts aren't expecting a major storm this time – with only a G2 warning issued for the current onset of unusual solar activity. This will be enough only to heighten the aurora borealis effects and test the real world resilience of satellites and other sensitive equipment.
Here's what it looks like:

But future solar eruptions – which could become more volatile if the sun is experiencing drastic changes or anomalies – could be much worse. If a G4 or G5 level solar storm or other space weather event impacts earth, there could definitely be a lights out scenario where supplies and communications reach a critical level, while desperation and unrest set in:
via Daily Mail:
An elongated coronal hole stretching across the face of the sun sent solar wind particles gushing toward Earth last week.

NASA's Solar Dynamics Observatory has revealed a stunning animation of the phenomenon, showing the massive dark patch marring the surface of our star.
[…]

These are areas in which the magnetic field has opened, allowing solar wind particles to come streaming out.

[…]

Space-weather forecasters issued a 'G2 alert', the second lowest classification on the geomagnetic storm scale… the resulting geomagnetic storm, while minor, could have some effects on satellites and the power grid.

[…]

'The principal users affected by geomagnetic storms are the electrical power grid, spacecraft operations, users of radio signals that reflect off of or pass through the ionosphere, and observers of the aurora,' the NOAA said.
Stronger storms have taken place, and those who are paying attention are anticipating a major, crippling event:
This past fall, solar winds triggered a giant geomagnetic storm, raising fears that they could cripple power supplies. Warnings were issued by the operator of the biggest power grid in the US, PJM Interconnection LLC, as well as by Midcontinent Independent System Operator, which manages high-voltage power lines across North America…

The solar storms could potentially affect telecommunications and power infrastructures all over the globe.
Military and national security infrastructure has already taken precautions. Specialized cement has been invented and commercialized to shield both new and existing buildings from the harm that would be caused by an EMP event or similar disruption via the electromagnetic spectrum.
Man has adapted rapidly, and utilized technological progress over the many frequencies of the known spectrum. But nature still holds its power over this same band of frequencies, and can unleash some powerful forces that could potentially knockdown or wipe out human-made devices. Meanwhile, governments and rogue players also hold the power to initiate an EMP attack – it remains the most realistic, widespread scenario for a major disaster outside of economic collapse or a truly catastrophic earthquake or volcano.
Individuals can prepare for this eventuality by building or utilizing a Faraday Cage (a basic metal trashcan with a lid is the simplest way to go). Whatever goes inside is shielded from EMP or electromagnetic disaster. Backup computers, electronics and communications devices need to be stored in one or multiple locations, along with all other preps.
This one could really happen. It is just a question of when, and of what magnitude.
Read more:
EMP Attack Would Destroy Civilization: "A Nightmare You'll Never Wake Up From"
A Step-By-Step Guide To Prepare For Any Disaster
Military Readies Mountain Fortress to "Shield Against EMP Attack"
Congressman Urges Protection for Power Grid: EMP Attack "Could Bring Our Civilization to a Cold, Dark Halt"

"Super EMP" Capable of Disabling Power Grid Across Lower 48 States

EMP Threat: 'Within One Year 9 Out of 10 Americans Would Be Dead'