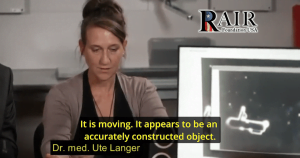 German physicians have joined other scientists around the world in discovering strange objects in the COVID-19 "vaccines." Are these objects the reason these shots need to be stored at -20 degrees Fahrenheit?
According to a report by the RAIR Foundation, the pathologists presented an analysis complete with video and photos of the vaccine during a shocking but little-publicized press conference in September, a clip of which has been translated for the organization.
Life Insurance Companies Alert: Excessive Deaths Now Total Over 90,000 PER MONTH!
According to the video and presentation, foreign objects were discovered in the vaccines along with the blood of some people who were given the jabs. "Some of the foreign objects were described as 'accurately constructed' and also — shockingly — worms that were hatched from eggs," the foundation said in a report. "The live-streamed press conference was organized by the Stiftung Corona-Ausschuss, which can be loosely described as Germany's equivalent of America's Frontline Doctors. As expected, their remarkable presentation was slammed by the German legacy media," the foundation's report continued.
Microchip Developer: There's No Stopping The Microchipping Of Humans
The event was spearheaded by Prof. Dr. Arne Burkhardt, who served as "head of the Institute of Pathology in Reutlingen for 18 years and then worked as a pathologist in private practice", Prof. Dr. Walter Lang, who "worked as a pathologist at the Hannover Medical School from 1968 to 1985" before founding a private institute for pathology in Hanover and Prof. Dr. Werner Birkholz, a former professor of electrical engineering with a focus on quality and risk management at Jacobs University in Bremen. Introductions and the presentation was made by Dr. Ute Langer, a physician, and a surgeon. –RAIR Foundation
The full video can be seen on Rumble:
https://rumble.com/vs6i00-german-doctors-find-astonishing-impurities-in-covid-vaccine.html
Transcript (See full conference transcript here)
The above video is only 12 minutes long and should be seen if any readers have time. Use your own critical thinking and discernment. We are not here to tell anyone what to believe. We try to present information so you can look at it and discern the truth for yourself.
This is all coming out as the very ruling class who insists you get injected four times with this stuff is also admitting the shots don't actually do anything at all that they said they did.
CDC Director: "What Vaccines Can't Do Anymore Is Prevent Transmission"
The former vice president of Pfizer has also said that these "vaccines" were simply designed to harm people.
Former Pfizer VP: COVID "Vaccines" Were "Always Going To Harm People"
The unfortunate reality is that these vaccines are not and have not been what they claimed they were.