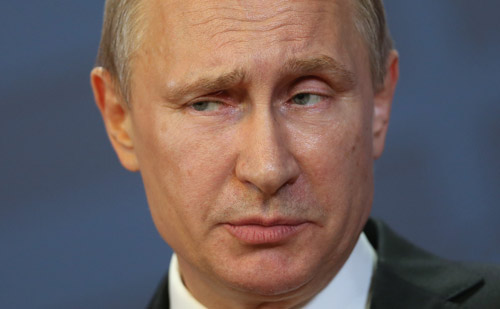 This article was written by Claire Bernish and originally published at The Free Thought Project.
Editor's Comment: The entanglement and potential war with Russia looms ever larger. Gen. Mike Flynn resigned after pressure about his slippery comments and failure to disclose properly to his superiors, namely the VP and Pres. But the real reason so much pressure was put on Flynn likely also has to do with his general attitude of cooperation with Russia, not just unauthorized discussions of removing sanctions with his Russian counterpart.
The shadow powers of this country intend to keep Russia hostile, not as a burgeoning ally. Is it any coincidence at all that the Russians have popped up off the U.S. coast, quite close to the capital, just after Flynn's resignation? It seems that everyone has their part to pay, and the age of spying, intrigue and the gravity pulling us to war is upon us. Keep watch how this general issue develops…
Hours After Nat'l Security Adviser Quits, Russian Spy Ship Spotted Off US Coast
by Claire Bernish
A Russian spy ship has reportedly been spotted by officials just 70 miles of the U.S. East Coast for the first time since President Donald Trump took office — and just hours after National Security Adviser Michael Flynn resigned from his position less than one month on the job amid controversy over a phone call with the Russian ambassador.
Two unnamed U.S. officials from an undivulged department allegedly told Fox News the Russian ship was seen 70 miles of the coast of Delaware, heading north at 10 knots — well outside United States territorial waters, which extend 12 nautical miles from the coast.
"It's not a huge concern, but we are keeping our eyes on it," one official said.
According to Fox News,
The ship, the SSV-175 Viktor Leonov, last sailed near the U.S. in April 2015, an official said. The ship is capable of intercepting communications or signals, known as SIGINT, as well as measuring U.S. Navy sonar capability, a separate official said.

The Russian spy ship is also armed with surface-to-air missiles.
While Russia is perfectly within its rights to sail in international waters, the proximity of the ship to the U.S. after Flynn's resignation would raise eyebrows of politicians who, for months, have championed an anti-Russia propaganda campaign.
"In his resignation letter, which the White House emailed to reporters," the New York Times reports, "Mr. Flynn said he had held numerous calls with foreign officials during the transition. 'Unfortunately, because of the fast pace of events, I inadvertently briefed the vice president-elect and others with incomplete information regarding my phone calls with the Russian ambassador,' he wrote. 'I have sincerely apologized to the president and the vice president, and they have accepted my apology.'"
And, as Zero Hedge reports,
The last time a Russian spy ship was spotted in relative proximity to the US, was in September 2015, when shortly after five Chinese naval ships were observed in the Bering Sea, U.S. military satellites identified a Russian spy ship – capable of cutting undersea communications cables and other sensors – off the coast of Kings Bay, Ga., home to the U.S. Navy's East Coast ballistic missile submarine fleet. Needless to say, the US navy – and Pentagon – were quite displeased: after all it is only Russia that is allowed to be surrounded by NATO forces.
That wasn't the only time this particular vessel was spotted near the U.S., as the Daily Mail notes,
In a throwback to the Cold War, the spy ship also caused a stir after unexpectedly docking in Havana on the eve of historic talks between the U.S. and Cuba the following year.

There was nothing stealthy about the arrival of the Leonov, which was moored to a pier in Old Havana where cruise ships often dock. But the visit was not officially announced by Cuban authorities.
Although U.S. media quickly jumped to report the story — shortly followed by Iranian state press — Russian state-run outlet RT noticeably lacked any coverage of the soon-to-be controversial sighting even an hour after the story broke.
In fact, without visual confirmation or the names, rank, or departments of the officials cited by Fox News — and the recent trend of corporate media proffering news items before vetting them for accuracy — it would be prudent to ingest this information as questionable, rather than proven.
In that vein, the timing of the report less than 24 hours after Flynn's resignation seems far less than coincidental.
This is a developing story and will be updated as necessary.
This article was written by Claire Bernish and originally published at The Free Thought Project.