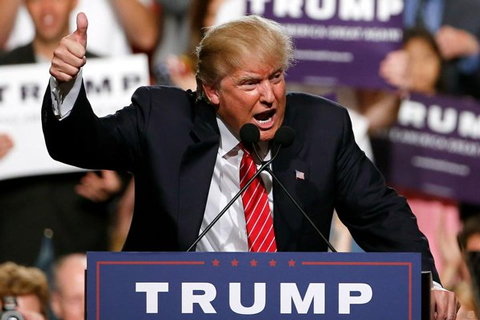 How far will they go to destroy this country? Liberals and globalists are already plotting several moves ahead.
If Donald Trump beats Hillary, they are already contemplating a Plan B.
In a  op-ed, L.A. Times. writer James Kirchick dangles the ambiguous but ominous threat, "If Trump wins, a coup isn't impossible here in the U.S."
It basically hints that a military overthrow of a Trump Presidency might be coming in the future, and would then be justified by horrific dictatorial acts that hordes of screaming leftists have been warning about all this time:
From the L.A. Times:
Americans viewing the recent failed coup attempt in Turkey as some exotic foreign news story — the latest, violent yet hardly unusual political development to occur in a region constantly beset by turmoil — should pause to consider that the prospect of similar instability would not be unfathomable in this country if Donald Trump were to win the presidency.
Naturally, in this scenario, Trump would be quick to commit war crimes (as Kirchick and many others see it).
What if his presidency is so dangerously unconstitutional and misguided that a military intervention will be necessary to take the country back?
In their quest to stop Trump at all costs, many of his opponents are already prepared to take things that far. That is telling, and very chilling indeed.
Throughout the campaign, Trump has repeatedly bragged about ordering soldiers to commit war crimes, and has dismissed the possibility that he would face any resistance. "They won't refuse," he told Fox News' Bret Baierearlier this year. "They're not gonna refuse me. Believe me."  When Baier insisted that such orders are "illegal," Trump replied, "I'm a leader. I've always been a leader. I've never had any problem leading people. If I say do it, they're going to do it."

Try to imagine, then, a situation in which Trump commanded our military to do something stupid, illegal or irrational. 

[…]

If this scenario sounds implausible, consider that Trump has normalized so many once-outrageous things — from open racism to blatant lying. Needless to say, such dystopian situations are unimaginable under a President Hillary Clinton, who, whatever her faults, would never contemplate ordering a bombing run or — heaven forbid — a nuclear strike on a country just because its leader slighted her small hands at a summit. Rubio might detest her, but he cannot honestly say that Clinton, a former secretary of State, should not be trusted with the nation's nuclear codes.

Trump is not only patently unfit to be president, but a danger to America and the world. Voters must stop him before the military has to.   
The veiled threat can't be dismissed just because it is misguided or vague.
Should Donald Trump take it as a threat? Is his life in danger?
What happens if voters don't make the choice these people think is the right one?
Glenn Beck was suspended from air for a week for allow a guest to make similar comments that hinted at 'taking Trump out.'
Discussing a potential Donald Trump presidency, Thor lamented that impeachment would likely be off the table.

"If Congress won't remove him from office, what patriot will step up and do that if, if, he oversteps his mandate as president, his constitutional-granted authority, I should say, as president," Thor said. "If he oversteps that, how do we get him out of office? And I don't think there is a legal means available. I think it will be a terrible, terrible position the American people will be in to get Trump out of office because you won't be able to do it through Congress."
There is a very real and very potent anger fomenting across our country. Though there are good reasons for it, most of it is misdirected, and 2016 has proven to be open season for attacks of all kind against Trump and his supporters.
Violence has trailed his campaign as passionate leftists stop at nothing to defy his controversial policies on immigration and the rest of it.
The rule of law is slipping away, and certain sectors of the establishment love the chaos is will bring.
Read more:
Assassination Threat? Glenn Beck Suspended After "Talking About Taking Out Trump"
Epic Speech: Is Trump for Real? Watch As He Destroys 'Hillary the Liar, Ruining America'
Rapper Threatens To Kill Donald Trump If His "Momma's Food Stamps" Are Taken Away
The American People Have Been Conquered: "Change Through Peaceful Means No Longer Possible"
Anti-Trump Riots Go Primal: "Demonstrators Smash Up a Squad Car, Punch a Donald Supporter"