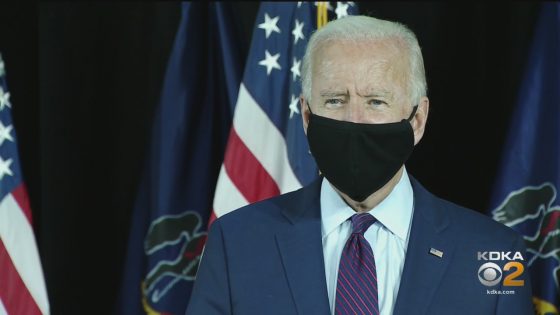 Joe Biden is reminding people once again that we aren't out of the woods with regards to the tyranny planned for the remainder of this winter. After many in the ruling class have already promised the "darkest winter," Biden doubled down saying our "darkest days" are still ahead of us.
Joe Biden has urged Americans to prepare themselves for the upcoming struggle with the scamdemic hoax the mainstream media, ruling class, and elitists are pulling on us.  "One thing I promise you about my leadership during this crisis: I'm going to tell it to you straight. I'm going to tell you the truth. And here's the simple truth: Our darkest days in the battle against Covid are ahead of us, not behind us," Biden said in remarks in Wilmington, Delaware according to a report by CNN. 
"So we need to prepare ourselves, to steel our spines," the President-elect continued. "As frustrating as it is to hear, it's going to take patience, persistence, and determination to beat this virus. There will be no time to waste in taking the steps we need to turn this crisis around." He added that "help" will be needed to distribute the vaccine.  Prepare for punishment if you decide not to take the "voluntary" shot.
Medical Journal: Get The COVID-19 Vaccine, Or Be Punished HARSHLY
This is not the first time the ruling class has spoken of darkness. Dr. Anthony Fauci had promised us numerous times that we'll have a "dark winter."
More Promises Of A Long "Dark Winter"
Joe Biden Warns: A "Dark Winter" Is Ahead
Those Who Planned The Enslavement of Mankind Warn Of "A Dark Winter" For Us
Secret Models of "The Darkest Winter"
This talk of a dark winter and dark days is no longer coincidental.  It continues to happen and it's being done on purpose.  For what purpose? Who knows. My guess would be predictive programming, but it could be fear-mongering too.
As one of the rulers who think your life is owed to him, Biden is urging us all to just roll up our sleeves and take the vaccine. Just trust Big Pharma and the government. What could possibly go wrong?
Democide: Government Killed Over 260 Million in the 20th Century, Poised to Kill Billions More in the 21st
"I look forward to the second shot, and I have absolute confidence in the vaccine," Biden said on Tuesday. "But we're in short supply. Taking the vaccine from a vial into the arm of millions of Americans is one of the biggest operational challenges the United States has ever faced."