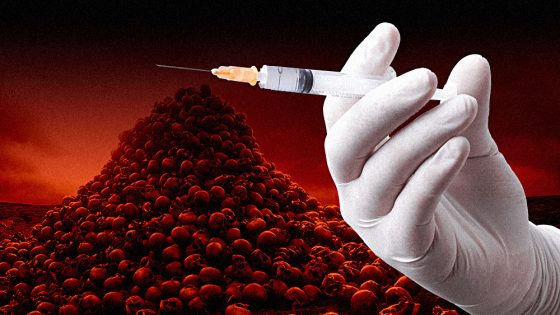 Death is a side effect of the newly approved COVID-19 vaccines the government is demanding we all take. That's becoming more and more clear by the day! In fact, Norway has launched an investigation into the deaths of two people in a nursing home after taking Pfizer's coronavirus vaccine.
The Norwegian Medicines Agency has announced that two nursing home residents passed away days after receiving the Pfizer-BioNTech COVID-19 vaccine and that an investigation has been launched into the deaths. "We have to assess whether the vaccine is the cause of death, or if it is a coincidence that it happened soon after vaccination," Medical Director Steiner Madsen said in a statement about the deaths.
Norway claims that due to the advanced age of the patients who received the vaccines, the deaths could be merely coincidental.
Portuguese Nurse Dies Suddenly After Receiving COVID Vaccine
The CDC's VAERS reporting system was set up to track vaccine-related injury. Most patients can expect to experience some kind of adverse reaction, but for the vast majority of patients, symptoms will be relatively mild and clear up within a couple of days. But amid a rush of reports about patient deaths, Berenson points out that the number of patients seeing serious complications per the number of doses distributed is roughly 50x higher than the rate of 'adverse' reactions caused by the flu vaccine. -ZeroHedge
1/ Through Dec. 22, with fewer than 1 million doses of the #Covid vaccine given, @cdcgov's vaccine injury reporting system received 307 reports of ER visits and 17 "life threatening" events.

Per dose, that's roughly 50 times the rate of adverse events from the flu vaccine…

— Alex Berenson (@AlexBerenson) January 5, 2021
2/ In 2019-2020, about 175 million flu vaccine doses were given. 1220 ER visits and 73 "life threatening" events were reported. The data is on the CDC VAERS Website.

Caveats: physicians et al may be more diligent about reporting #Covid vaccine events, since the vaccine is new…

— Alex Berenson (@AlexBerenson) January 5, 2021
3/ And the data is theoretically updated through Friday Jan. 1, which would be a much higher denominator. However, I believe it is correct to use Dec. 22 as the last date for Covid adverse events because I cannot find any later reports in the system…

— Alex Berenson (@AlexBerenson) January 5, 2021
4/ Plus, the first Covid vaccine doses have mostly been given to healthy people in settings where problems can be quickly treated. These problems are occurring BEFORE the rollout to older, less healthy people – and before the 2nd dose, which is known to be far more dangerous…

— Alex Berenson (@AlexBerenson) January 5, 2021
Mainstream media even warned the public to expect people to die after taking this vaccine, saying it was just their time to go. We should have known that this is how they would play this game. CNN's main concern, however, is public relations for the ruling class and big pharma.
When shots begin to go into arms of residents, said Dr. Kelly Moore, associate director of the Immunization Action Coalition (who is also pushing the official narrative of propaganda onto the public) Americans need to understand that deaths may occur that won't necessarily have anything to do with the vaccine. "We would not at all be surprised to see, coincidentally, vaccination happening and then having someone pass away a short time after they receive a vaccine, not because it has anything to do with the vaccination but just because that's the place where people at the end of their lives reside," Moore said.

"One of the things we want to make sure people understand is that they should not be unnecessarily alarmed if there are reports, once we start vaccinating, of someone or multiple people dying within a day or two of their vaccination who are residents of a long-term care facility. That would be something we would expect, as a normal occurrence, because people die frequently in nursing homes." -CNN
Well, that's comforting. They are concerned about the public's perception of the vaccine if reports of people dying after getting it start to surface. Perhaps this is why they are starting nursing homes.  They can blame the deaths on something else and have already primed the minds of the masses to accept it.

[DISPLAY_ULTIMATE_SOCIAL_ICONS]