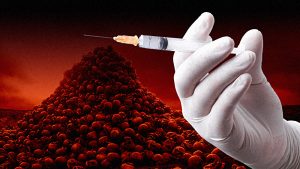 Attorney Todd Callender, CEO of a large insurance group, is warning that excess mortality of the fully "vaccinated" is now becoming not just statistical, but obvious.  All forms of diseases among those who have taken the COVID-19 "vaccines" are skyrocketing.
"I happen to be in the morbidity business," Callender explained during the call. "I don't think that it's by coincidence, by the way, that Moderna has now just received licensure of their emergency use authorization HIV vaccine. So, they gave everybody AIDS, and here's your salvation, another vaccine."
What's With All The HIV & AIDS Headlines in The MSM Lately?
Preliminary mortality data from the Centers for Disease Control and Prevention (CDC) from 2021 shows an expected death count of 2,948,273. In actuality, there were 3,447,405 deaths, meaning there were 499,132 excess deaths for the year, according to a report by Natural News. 
At this rate, assuming the excess mortality rate continues on the current trajectory, everyone who got injected with the mRNA shots will be dead by 2025. This was also forecasted in the population reduction charts that have been posted on the Deagel website for many years. Before scrubbing the information, Deagel.com's forecast for the U.S. population in 2025 is 100 million fewer people. For Germany during the same time period, there is expected to be 25 million fewer people. Since Deagel has been around since 2015, the Department of Defense (DoD) guy who runs it appears to have known since at least that far back that there was going to be a plandemic, and that many, if not all, of the people who got "vaccinated" for it, will soon die.
Hal Turner has repeatedly warned that the Deagel report was up for a reason, and scrubbed for a reason. Perhaps the vaccine agenda is really as sinister as it appears. Maybe not, draw your own conclusions when presented with information.
"About one-third of Germany's population remain unvaxxed," Hal Turner explained. "Today's population is 83 million, so Deagel's report may be quite accurate. Deagel has always had the forecast at the year 2025," Turner added. "The numbers may have fluctuated but the date never did."
Callender explains that, basically, the jabbed now have vaccine-induced AIDS (VAIDS) and could succumb to a deadly cytokine storm (ADE) at any moment. That means any disease could manifest at any time that could be fatal. For some, this has already happened and they are now chronically ill or deceased. For the rest, well, time will certainly tell what becomes of them.