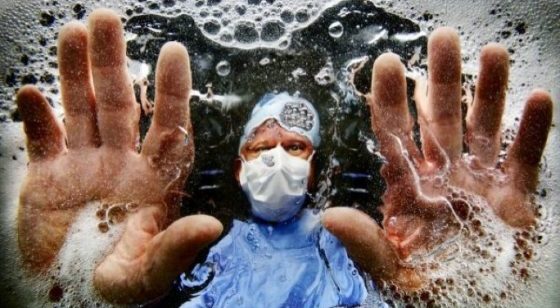 Superbugs have become an increasing problem.  With fungal infections and bacteria no longer responding to medications such as antibiotics, those infectious organisms have evolved beyond modern medicine.  If humans cannot find a way to treat people who become infected, 10 million per year could die worldwide of superbug infections.
Funguses and bacteria are evolving faster than humans. In the United States alone, microbial resistant infections have killed 23,000 and sickened 2 million per year and hospitals are the breeding grounds for these infectious organisms.
In a new study, published by The American Society for Microbiology, scientists determined that antibiotic-resistant bacteria are bred in the plumbing of hospitals. The study, titled Genomic Analysis of Hospital Plumbing Reveals Diverse Reservoir of Bacterial Plasmids Conferring Carbapenem Resistancefound that even when hospitals themselves are impeccably clean of infectious bacteria and viruses, the pipes that carry away those micro-organisms are not.-SHTFPlan
It didn't seem to matter how well hospitals cleaned up either. When the rooms were clean, the germs were not killed, they just migrated into the plumbing system of the building instead; where they stayed becoming resistant and evolving
Even when the sinks, faucets, bedrails and countertops of patients' rooms are largely free of germs that resist modern medicines, the genetic building blocks for antibiotic resistance intermingle freely in the pipes connected to those rooms, according to a study published Tuesday in the journal mBio. That DNA can give superbugs the power to defeat modern medicines and threaten the lives of patients. –LA Times
This resistance is creating a nightmare worldwide. The Centers for Disease Control and Prevention (CDC) says: "Antibiotic resistance is one of the greatest public health challenges of our time." Annually, at least 700,000 people die from drug-resistant diseases, and that number is expected to increase to 10 million deaths per year by 2050 if nothing is done.
There is no end in sight right now, although some scientists are using CRISPR (genetic modification) to attempt to beat these infections.  But as more and more antibiotics lose their effectiveness each year, the crisis will worsen.  There are many reasons for this crisis including overprescribing, hospital breeding grounds, plant and water supply contamination, and lack of new research thanks to government regulation and bureaucracy.
In an effort to combat antibiotic-resistant superbugs, scientists have created "living antibiotics" made of viruses that have been genetically modified using the gene-editing tool CRISPR, according to a report by NPR. "If we're successful, this revolutionizes the treatment of infections," says Michael Priebe, a doctor who heads the spinal cord injury service at the VA medical center. "This can be the game changer that takes us out of this arms race with the resistant bacteria and allows us to use a totally different mechanism to fight the pathogenic bacteria that are infecting us."
But this is still a race.  And right now, it's "ifs" doctors are messing with, not "whens."