Editor's Note: Pay attention fellow Americans. If it were up to Harry Reid or others like him anyone who disagrees with their actions, assembles for a redress of grievances or stands their ground in the face of tyranny would be a domestic terrorist and subject to laws like the NDAA and Patriot Act, both of which allow for not only indefinite detention without charge or trial, but outright execution by way of gun or drone. We are living in a very dangerous time in what was once the land of the free.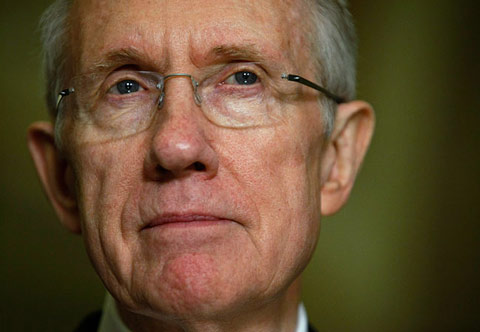 (Pictured: Senator Harry Reid (D-NV). If you supported the Bundy's in Bunkerville, whether in person or by thought or words, this man would flag you as a "domestic terrorist)
Senator Harry Reid has escalated the war of words over the Cliven Bundy dispute, sensationally labeling the Nevada cattle rancher's supporters "domestic terrorists" during an event in Las Vegas today.
During a 'Hashtags & Headlines' event at the Paris Hotel & Casino in Las Vegas, Reid referred to Bundy supporters as "Nothing more than domestic terrorists," adding, "I repeat: what happened there was domestic terrorism."
Reid was referring to the stand off on Saturday in Bunkerville where Bundy supporters, some of whom were armed, forced Bureau of Land Management agents to back down and release around 380 head of cattle belonging to Bundy that had been seized over the course of the previous week.
Reid claimed that Bundy viewed the United States as a "foreign government," while accusing his supporters of goading violence.
"There were hundreds, hundreds of people from around the country that came there," Reid said. "They had sniper rifles in the freeway. They had weapons, automatic weapons. They had children lined up. They wanted to make sure they got hurt first … What if others tried the same thing?"
Despite Reid's characterization of Bundy supporters as "domestic terrorists," the only violence metered out during the dispute was when BLM agents tasered and assaulted Bundy supporters during an incident on April 9.
No matter where you stand on the Bundy issue, Reid's characterization of American protesters as "domestic terrorists" is chilling and a massive backlash is almost certain to follow.
It also fits the narrative that the federal government has been pushing for years through literature such as the MIAC report, which framed Ron Paul supporters, libertarians, people who display bumper stickers, people who own gold, or even people who fly a U.S. flag, as potential terrorists. In 2012, a Homeland Security study was leaked which characterized Americans who are "suspicious of centralized federal authority," and "reverent of individual liberty" as "extreme right-wing" terrorists.
Reid attracted controversy earlier this week when he promised that the BLM's fight with Bundy was "not over". The Nevada Senator was hit with accusations of cronyism after his former staffer Neil Kornze was confirmed as the new BLM director earlier this month.
Reid is obviously angry after his complicity in the siege against the Bundy family was exposed and became a viral story. Although many news outlets claimed this issue was "debunked," Reid's involvement in a solar farm just 35 miles from Bundy's ranch is documented. Archived files which were deleted from the BLM's own website confirm that confiscating Bundy's cattle was necessary in order to clear the way for lucrative solar deals with transnational corporations.
Meanwhile, the BLM has admitted slaughtering two prize bulls belonging to Cliven Bundy during their round up of his cattle. The BLM claims the bulls "posed a safety hazard" but refused to elaborate. Bundy supporters have pointed to photographs which appear to show one of the bulls having suffered a gunshot wound.
Watch the historic stand off between Bundy supporters and BLM feds below.
Facebook @ https://www.facebook.com/paul.j.watson.71
FOLLOW Paul Joseph Watson @ https://twitter.com/PrisonPlanet
*********************
Paul Joseph Watson is the editor and writer for Infowars.com and Prison Planet.com. He is the author of Order Out Of Chaos. Watson is also a host for Infowars Nightly News.