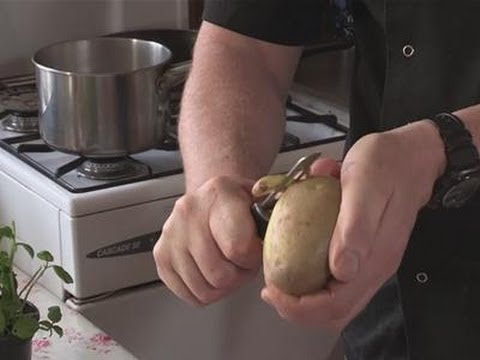 A man in Scotland was arrested for having a potato peeler on his person in public without a "reasonable excuse." Having a kitchen utensil to peel your vegetables is somehow no longer a good enough reason to have "weapon" on your person in public in the UK.
Scott Walker, 39, of the James Bank Hostel, James Street, appeared in custody at Dunfermline Sheriff Court. Walker ended up behind bars after being found in a Dunfermline street with an offensive weapon, a potato peeler.
He admitted that on Saturday in Appin Crescent, a public place, he was in possession of an object that which had a blade or was sharply pointed; the aforementioned potato peeler. Defense solicitor Selina McKay said her client "suffers from significant learning difficulties which have been lifelong." Apparently, that's how to defend a person who wants to peel their potatoes.
According to Breitbart, Walker was charged under the Criminal Law (Consolidation) (Scotland) Act 1995.  Sheriff Pino di Emidio ordered that Walker should return to the court on May 16th for sentencing over the crime, for which he could receive up to four years' imprisonment. The man was on bail for another unspecified offense at the time of his arrest.
The unusual arrest comes amid heightened public interest over knife crime, as UK capital London experiences an unprecedented crime wave with 62 suspected murders in the capital so far in 2018 — leaving the city overtaking traditionally higher-crime New York for the first time in over 200 years.
But this isn't the first time the UK has decided that all types of human rights are illegal. You can't even defend yourself or your property in the UK without facing criminal charges.
The police were called to a residential street in the suburb of Hither Green in the south-east London in the early hours of this morning after the pensioner reportedly found two men inside his home.  It was understood that the homeowner had been forced into his kitchen by a burglar armed with a screwdriver, where a struggle ensued. That struggle left one of the intruders bleeding from injuries to his upper body. The suspected burglar, who was 38-year-old, was rushed to hospital but later died. The 78-year-old homeowner was initially detained on suspicion of causing grievous bodily harm but was later arrested on suspicion of murder. -SHTFPlan

Not to mention self-defense is a basic human right. Those who understand self-preservation want the best and most effective tool at hand to save their life. and those in the UK are being denied that fundamental right by the very law the government promised would protect them. –SHTFPlan.com
While London is an ostensibly gun-free zone and ever-increasingly a knife-free zone, a number of the killings have been shootings, while others have been committed with knives. Looks like no amount of gun control will ever work.