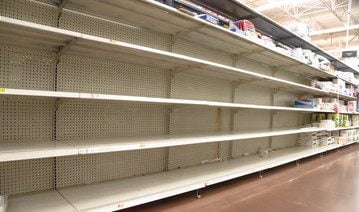 The mainstream media continues to report on the increasing number of cases during this scamdemic. They are obviously gearing us up for something, and grocery stores are preparing for the second wave of panic buying.
If panic buying has not yet returned to your area, you may want to stay alert and potentially expect it soon. Luckily, most readers of this site have figured out that they need a bug out plan and have stored enough food and water to get them through several months of an emergency. If you have yet to prepare at all, you may be too late. Grocery stores are now expecting a second round of panic buying over the second wave.  But this time, it isn't just the plandemic that has people panicked.  The upcoming election chaos is also taking its toll.
As reported by Today, with a second wave of COVID-19 looming and fear over potential preplanned unrest around the presidential election, consumers are aggressively stocking up on various foods. Grocers are struggling to keep up with the demand for some foods.
Grocery Stores "Prep" For Second Wave Of COVID-19 By Stocking Up On Inventory
"As of now what we are seeing is the start of the second wave of panic," said Chris Mentzer, the director of operations for Rastelli Market Fresh in New Jersey. "Our customers keep telling me how they are looking for any type of freezer to purchase so they can start stocking up their homes now. Their main concern is meat." He explained that customers are mainly looking to buy and freeze beef and poultry — ground beef, steaks, roasts and all varieties of chicken.
"They're also starting to buy a lot of frozen meals and frozen pizzas," said Mentzer. "We are seeing anything that can be microwaved quickly or easily made in the oven for kids, fly off the shelves, as people are preparing for schools and colleges to be closed this winter — along with a run on dried goods and paper goods, as well." –Today
Buyin frozen pizzas and extra meat is a good idea if you expect the power to stay on, and that's kind of up in the air right now too.
Marin Katusa on U.S. Energy Dependence: "You Want Social Upheaval? Turn Off the Power Grid"
If the grid goes down, all those frozen pizzas will not be able to be heated up in a microwave or baked in an oven nor will they last forever unfrozen. Buying vegetables to can or dry goods or canned goods is a better option, but readers of this site already know that.
The good news is that if people truly are buying gout the frozen junk food, there will be a lot of excellent vegetables left that you can purchase and can, especially if your garden was meager this year. I like to rab a jug of vinegar every time I am in the grocery store. This way, there's plenty to can with. You should also consider stocking up on heirloom seeds that grow well in your area.
10 Survival Seeds You Must Stockpile For When The System Collapses
The fact that most people are stocking up on frozen meals could also mean other options such as organic peanut butter and olive oil (coconut oil too) will be available. Those are good sources of fats and can fill you up – and will be a lot better for you than a frozen pizza. Again, things readers of this site already know. The oils can also be cooked with to add sustenance to meals.
PREPPING FOR THE UPCOMING GOVERNMENT-INDUCED FOOD SHORTAGES
The good news is that we can bank on others' weaknesses when it comes to prepping and the things that you should actually be storing will be more likely to be readily available.