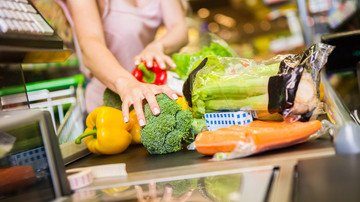 In just one day, Germany has increased the cost of food by 20-50%. This news comes just days after Germany reported the highest inflation in a generation (with February headline Consumer Price Index soaring at a 7.6% annual pace and blowing away all expectations).
According to a report by ZeroHedge, this inflation is giving locals a distinctly unpleasant deja vu feeling even before the  Russian invasion of Ukraine broke what few supply chains remained and sent prices even higher into the stratosphere.
BREAKING: German food retailers to raise prices by 20-50% on Monday, says German Retail Association

— BNO News (@BNONews) April 3, 2022
While the mainstream media is continuing to blame inflation on the conflict in Ukraine, instead of the disaster of central banking, people all over the world are beginning to care less and less about the why, and more and more about how they will put food on the table.
Germany will take one step toward a return of the dreaded Weimar hyperinflation (which was part of how Adolf Hitler rose to power) when according to the German Retail Association (HDE), consumers should prepare for another wave of price hikes for everyday goods and groceries with Reuters reporting that prices at German retail chains will explode between 20 and 50%:
GERMAN RETAIL CHAINS TO INCREASE FOOD PRICES BY 20-50% FROM MONDAY

— First Squawk (@FirstSquawk) April 3, 2022
"The second wave of price increases is coming, and it will certainly be in double figures," Sanktjohanser warned, as cited by The Local. According to the president of the trade association, the first retail chains have already started to raise their prices in Germany – and the rest are likely to follow. "We will soon be able to see the impact of the war reflected in price labels across all the supermarkets," said Sanktjohanser.
Recently, popular retail chains such as Aldi, Edeka, and Globus announced that they would be forced to raise their prices. At Aldi, meat and butter will be "significantly more expensive" from Monday due to price hikes from its suppliers.
German supermarkets have even started rationing some items, by limiting the purchase of cooking oils and flour in particular to prevent a mad rush to stock up. Now that everyday food product prices are about to surge as much as 50%, it will be interesting to watch how much longer the German population will condone a NATO stance that has been seeking to stoke and perpetuate the war in Ukraine.
Hopefully, you took the advice from many sites that saw this food crisis coming a mile away long before the crisis in Ukraine. Time is all but up when it comes to stockpiling food, so get what you can while you still can.
PREPPING FOR THE UPCOMING GOVERNMENT-INDUCED FOOD SHORTAGES