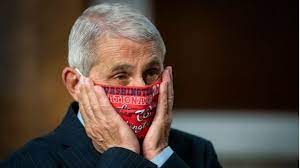 The ruling class along with its head medical tyranny, Dr. Anthony Fauci, said that the anti-vax movement is "very disturbing." Considering these shots are a part of their overall agenda for control and domination, we'd say he's accurate.
The "anti-tax" (anti-theft) and "anti-government" (anti-slavery) movements are also dangerous to the masters' power as well. People who understand exactly what government is are their biggest concern. They don't fear anything other than a mass awakening and mass non-compliance making them obsolete.
Resisting Tyranny Depends on the Courage to Not Conform
The desperation can be heard in how Fauci describes those who do not believe him. These tyrants desperately need more people to get these shots as they are far from whatever their goal is. He also admitted that the size of the anti-vaccination movement in the US is being "underestimated." The tyrant also said on MSNBC that the trend is "very disturbing."
"I do believe it has been an underestimation of the numbers of people who are taken in by the misinformation associated with the anti-vaccination movement," the nation's top disease expert told Stephanie Ruhle on MSNBC, calling the movement "very disturbing." He added that there have "always been" people opposed to vaccination, misinformation, and disinformation have gotten in the way of the science.
So basically, as we've said from the onslaught of this censorship campaign, anything that goes against the official narrative will not be allowed. But even members of the ruling class are admitting their "vaccines" don't work.
CDC Director: "What Vaccines Can't Do Anymore Is Prevent Transmission"
Fauci said that since he is outspoken in his vaccination advocacy, "for the protection of the individual, of their family and of society," he has been "villainized." "It doesn't feel good, but it's just a fact of life of where we are in society right now with disinformation and misinformation tends to rule in many respects," he said.
And Fauci wants himself and his cohorts in the ruling class to be what rules over other humans, not information he doesn't like.  Be careful of tyrants and their carefully crafted words. Government, in all forms, is slavery. It can be nothing more or nothing less. Some people are writing the rules, others are obligated to obey under threats of violence, kidnapping, or death. The sooner we realize this, stand in our power, and come together with the common goal of actually being free, the destroy their very plans for permanent slavery.
Freedom from Fear: Stop Playing the Government's Mind Games
The Establishment Doesn't Fear Trump, And It Doesn't Fear Bernie. It Fears You.