As the cold weather continues to plague Europe unabated, energy prices are soaring. The cold weather sweeping across western Germany, France, and the United Kingdom has allegedly led to a surge in electricity prices on Tuesday.
French day-ahead power prices jumped to 135 euros a megawatt-hour, a 42% increase versus the rolling two-week average. The cause of the price spike is a surge in heating demand and delays in restarting nuclear plants, according to a report by ZeroHedge.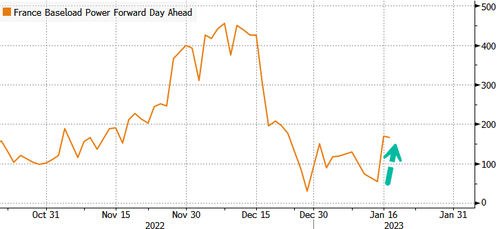 Day-ahead prices in Germany, Europe's largest economy, increased as much as 16% Tuesday.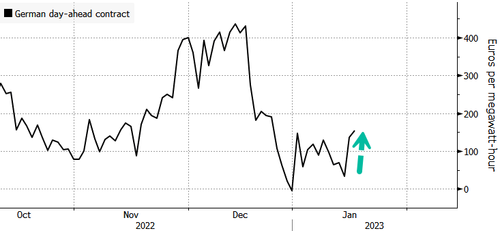 "Cold is expected to grip areas from the mid-continent to west, including in western Germany, France, and the UK where average departures from normal range anywhere between 2-6 degrees Celsius below normal," Matthew Dross, a meteorologist at Maxar Technologies, told Bloomberg. Dross said the cold spell "will increase heating demand for those regions to above normal levels."
Mild temperatures are expected to return next week, crushing demand once more. Morgan Stanley recently wrote that Europe's NatGas consumption in the year to October could be as low as 16% below the five-year average.
"Even if it makes gas-fired power plants increasingly competitive with coal-fired power plants, it does not lead to an increase in gas demand for power generation because" other cheaper power generation sources will be used first, Engie SA's EnergyScan wrote in a note.
Germany Energy Crisis Worsens: Oil Pipeline Leak Cuts Flow To Germany
Germany's (and Europe's) Self-Inflicted Upcoming Energy Crunch
"There currently appears to be no end to the losses on the European gas market," analysts at trading firm Energi Danmark A/S wrote in a note. They added:
"The panic-like situation from last year has been replaced by confidence that Europe will get through this winter without any supply issues."
Still, some are warning winter isn't over:
#natgas
Weather models are cooling by the day. European snow cover is forecast over half of Europe including Greece, Italy, Turkey, even Lebanon and North Africa reaching 3 foot of snow. #natgas pic.twitter.com/L5hjnXWgbW

— Heinrich Leopold (@LeopoldHeinrich) January 16, 2023
Europe's Energy Crisis Was Created by Political Intervention
Energy Crisis Worsens: Europe Braces For A Cold, Dark Winter
Europe's energy crisis looks to be getting worse, but at the same time, could be getting better. It's interesting how much of the media makes it look dire, while at the same time claiming it's not all that bad. Perhaps this is a situation to keep an eye on considering the odd way it's being reported on.