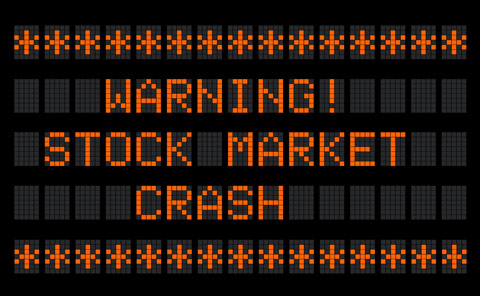 The end of the Shemitah cycle is fast approaching, and many are worried about an impending collapse, particularly considering we have already seen unprecedented stock market decline.
And history is not on our side. The past five Shemitah cycles have ended in crashes – and this one could be the worst yet.
Unfortunately the numbers don't lie, and now a respected statistician has proven the mathematical validity behind the Shemitah theory of collapse. WND reports:
Thomas Pound is an educator and mathematician who applies his statistical wizardry to the markets.

Only eight more trading days remain until the dreaded Elul 29, which is the final day of the Shemitah year, known as "wipe out day" on the Hebrew calendar.

[…]

"Statistically, it appears that the calendar years in which the Sabbatical year ends are worse than the other six years, and that difference is significant based on the data I have," Pound told Breaking Israel News.

"In September, we can expect something really bad."

[…]

Cahn pointed out that the years 1973, 1980, 1987, 2001 and 2008 were all Shemitah years that saw stock markets collapse.

The biggest ever single-day stock market crash occurred on Sept. 29, 2008, when the Dow fell 777.7 points and lost $1.2 trillion in value. This day also happened to be Elul 29, the last day of the Jewish year, one day before Rosh Hashana, signaling the end of the Shemitah cycle.
Statistician Thomas Pound isn't the only prominent figure predicting collapse.
Economic commentators Gerald Celente and Michael Snyder have also warned of a coming collapse, after noting the dire predictions of numerous financial gurus.
One of those is Jeff Berwick, the libertarian anarcho-capitalist and editor of Dollar Vigilante, who has warned in no uncertain terms that the potential for a terrible collapse is headed our way in September. USA Watchdog reported:
Financial expert Jeff Berwick says you don't have to wait for the next market crash. Berwick contends that financial facts and the so-called Shemitah are lining up and predicting a coming calamity. Berwick, who recently produced a video titled "Shemitah Exposed," explains, "I think it's already started. I put up that video in July, and by the end of August, we were already seeing major crashes happening around the world. The Chinese stock market has been in complete free fall. Of course, what happened in Greece, everyone knows about that, and there are actually 20 other stock exchanges . . . have all been in a crash in the last few weeks. My question is did the Shemitah start early this year or are these going to be pre-shocks to something that is going to be much, much worse?"

"September is going to be incredibly volatile and risky, and it might not just be September."

[…]

Every time the Federal Reserve says it will print a lot of money, the stock market goes up. I think, this time, a lot more people are aware of how this system is hanging by a thread. If the only answer they have to fix it is to keep printing money and for government to keep going into debt . . . I think a lot of people are going to wake up and say we're headed for Zimbabwe. We are headed for complete hyperinflation if this keeps up."
Obviously, we have already seen things starting to come unglued on the stock market and in pivotal events around the globe.
Things are poised for a crash, and the Shemitah would fit hand-in-glove with a total collapse, whether it comes in September or not.
Whatever you do, be prepared. It could get ugly.
Read more:
"All Hell is Breaking Loose": Rumors of September Market Crash Driving Panic
"The Market is Uniquely Crash-Prone": Experts Fear Financial Collapse Imminent
World Renowned Trend Forecaster Gerald Celente: "America Is A Collapsing Third World Country"
Are "Eerie Events Culminating in September"? Why Some Are Bracing for a Crash or Big Event