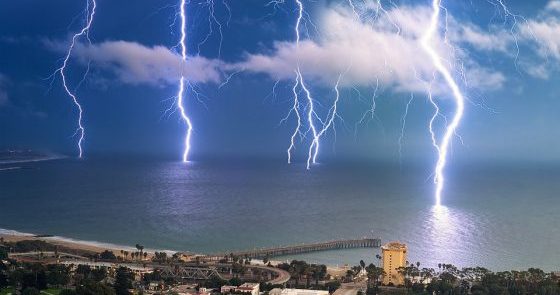 A volatile storm has ignited a slew of 40,000 lightning strike in southwestern California. The strikes have hit Los Angeles, Santa Barbara, San Luis Obispo, and Ventura counties – all between September 10-11.
The electric storm was most active on Sunday with an amazing 5,000 lightning bolts in the area over a three-hour period. NWS Los Angeles took to Twitter to report the tremendous display. The intense storm brought plenty of lightning to the Golden state's southern region, but almost no rain.  The greatest rain total of .44 inches at Sudden Peak on Sunday. By Monday morning, heavy showers, thunderstorms, and 35-mph winds were reported in eastern Los Angeles County.
Tremendous number of lightning strikes & in-cloud flashes over SW CA in last 24-hours. Nearly 40,000 in total! #CAwx #LAWeather #LARain pic.twitter.com/bXoEvdqHx6

— NWS Los Angeles (@NWSLosAngeles) September 11, 2017
But now conspiracy is swirling around this fascinating and unique electric storm.  Strange lights and electrons acting oddly seem to have been appearing either before or during major earthquakes – like the recent 8.2 magnitude quake in Mexico. Could these lightning strikes be a sign that California's mega quake is on the horizon?
Like California, Mexico is a seismically active region that has seen smaller quakes that have caused death and destruction. But Thursday's temblor is a reminder that even larger quakes — while rare — do occur. Scientists say it's possible for Southern California to be hit by a magnitude 8.2 earthquake. Such a quake would be far more destructive to the Los Angeles area because the San Andreas fault runs very close to and underneath densely populated areas.
It's often stated that California is ripe for a devastating mega earthquake and after some noticed the strange lights in the sky above Mexico during its quake, this conspiracy conclusion was an easy one to jump to.