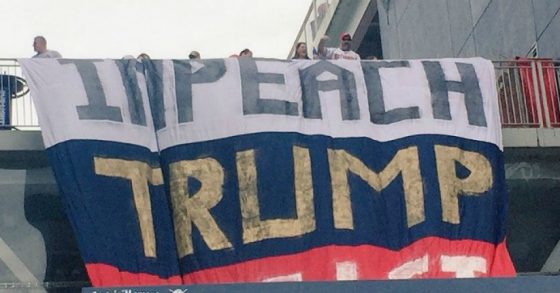 Democrats holding political offices have been threatening to impeach Donald Trump since he was elected a year ago.  Now, they have finally officially introduced articles of impeachment against the president.
Several house democrats introduced the articles of impeachment citing Trump's violations of the Constitution. But the six Democrats, Representatives Steve Cohen of Tennessee, Luis Gutiérrez of Illinois, Al Green of Texas, Adriano Espaillat of New York, Marcia Fudge of Ohio, and John Yarmuth of Kentucky, said at a press conference that the five articles of impeachment come out of concern for the country's national security.
"We believe that President Trump has violated the Constitution, and we've introduced five articles of impeachment," Cohen said at a press conference. The lawmakers pointed to numerous actions by Trump that they say make him unfit to be president, but they singled out five severe actions by the president they say rise to a level meriting impeachment.
The articles of impeachment cite Trump's firing of James Comey which they believe to be an obstruction of justice, perceived violations of the Emoluments Clause (which prohibits federal titles of nobility), as well as actions "undermining" the judiciary and freedom of the press.
"Given the magnitude of the constitutional crisis, there's no reason for delay," said Cohen, the sponsor of the resolution. The impeachment clause, Green said, "was drafted for a time such as this and a president such as this." Green had introduced impeachment articles of his own last month, largely focused on accusations that Trump has sown racial and ethnic divisions throughout the country.
This particular move is significant because it is the House Judiciary Committee that typically conducts impeachment investigations. That was the case with President Richard Nixon before he resigned prior to the resolutions being considered. While the committee did not conduct its own investigation in the case of President Bill Clinton, who became just the second president to be impeached after Andrew Johnson, it drafted the four impeachment articles and voted to send them to the House.
The impeachment proponents have been encouraged by liberal activists urging Capitol Hill Democrats to get more aggressive in their efforts to topple Trump.
Tom Steyer, the billionaire environmentalist, is spending millions of dollars on national TV ads pressing Democratic leaders to get on board. The Democrats introducing the new impeachment articles on Wednesday seem to have taken notice. "This is not a call in a vacuum," said Espaillat. "There is a real sentiment in the nation for this to begin."