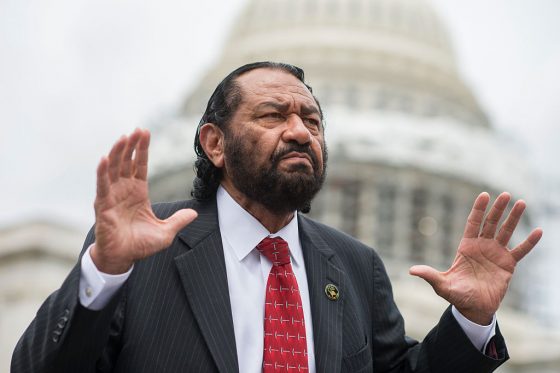 Texas representative, Al Green, a liberal lawmaker, says he'll force the House to vote Wednesday on impeaching President Donald Trump. Despite suggestions from the Republicans and Democrats that he let it go, Green says he's going to move forward anyway.
Green says in a letter that he's wanting a vote on impeachment because "we now have a bigot in the White House who incites hatred and hostility." But, even other Democrats agree that there is no evidence of impeachable offenses. House minority leader Nancy Pelosi even said that any impeachment effort should await hard evidence Trump has committed an impeachable offense.
According to USA Today, Green's resolution accuses Trump of causing "harm to American society." It cites his support for banning Muslim immigrants and comments defending participants in a white supremacists' rally after this year's riot in Charlottesville, Virginia.  Green also argued that Trump's conduct in the White House (while admittedly not criminal) had amounted to "high misdemeanor" and warranted removal from the Oval Office. "For too long, we have allowed our civility to prevent us from confronting the invidious incivility of President Donald J. Trump," he said.
Tonight, I released the Articles of Impeachment. Tomorrow, the House will vote on the impeachment of Donald J. Trump. (Stay Tuned) #RepealAndReplaceTrump https://t.co/8PUe4zboCX

— Congressman Al Green (@RepAlGreen) December 5, 2017
But his impeachment vote doesn't have a chance at succeeding. Even if a majority of the House votes to impeach the president, the Senate would need a 2/3 majority in order for the motion to pass. Republicans control both houses right now.
Other Democrats have warned the prematurity of this vote could hinder any future chances of impeachment. Isn't it fascinating how now Democrats are suddenly concerned with the Constitution and Trump's alleged violations thereof? They gave Barack Obama unbridled power and now that it's in the hands of someone they dislike, they melt down.
"In doing this, hatred disguised as acceptable political correctness has festered in our body politic and polluted our discourse to our detriment," Green said. "It divides and damages the social fabric of our country in ways that obstruction of justice cannot. It causes unparalleled destruction to our society in the long- and short-term that will not easily heal."  Green had pressed for a vote on articles of impeachment back in October, but pressure from fellow Democrats stopped him from moving forward.
For more information on the executive powers that Democrats awarded Obama, and Trump inherited, click here.