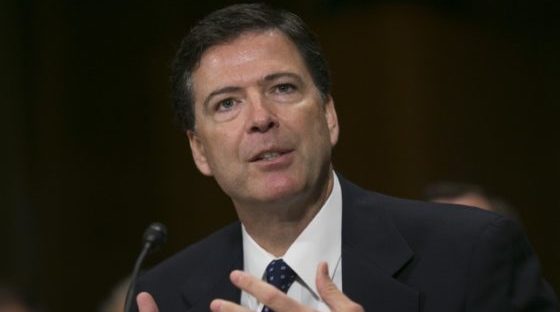 In a recent op-ed former FBI director James Comey fiercely defends the Russiagate probe into Donald Trump's campaign. Even though there's no evidence, Democrats cannot seem to let go of the one thing they were so desperately clinging to because the mainstream media told them to. 
https://www.shtfplan.com/headline-news/cultural-schizophrenia-us-media-no-longer-reports-facts-but-appeals-to-emotions_05162019
President Donald Trump has repeatedly blasted the failed investigation as "spying," and has accused Comey and others at the FBI of committing treason. (Trump fired Comey in 2017.) Last week, Trump gave Attorney General William Barr new powers to review the origins of the Russia investigation and potentially release classified information related to it as part of a wider probe over whether the FBI improperly targeted the Trump campaign.
Comey has responded by writing his own op-ed, in which he can be quoted as saying:
"There was no treason. There was no attempted coup. Those are lies, and dumb lies at that."
But does anyone remember when Comey claimed the deep state didn't exist then proceeded to describe the deep state in total accuracy? SHTFPlan remembers:
https://www.shtfplan.com/headline-news/james-comey-says-deep-state-doesnt-exist-then-describes-the-deep-states-existence_05022018
The president is a liar," Comey said in his op-ed. "We must call out his lies . . . We must constantly return to the stubborn facts," he wrote, according to a report by Market Watch.  Comey said that the FBI learned about possible contact between Trump campaign officials and Russians in late July 2016. "Of course, nobody from the Trump campaign told us this (or about later Russian approaches)" he wrote.
"But when we finally learned of it in late July, what should the FBI have done? Let it go? Go tell the Trump campaign? Tell the press? No. Investigate, to see what the facts were. We didn't know what was true. Maybe there was nothing to it, or maybe Americans were actively conspiring with the Russians. To find out, the FBI would live up to its name and investigate."
As for why the investigation was kept under wraps: "If there was nothing to it, we didn't want to smear Americans. If there was something to it, we didn't want to let corrupt Americans know we were on to them. So, we kept it secret. That's how the FBI approaches all counterintelligence cases," Comey said.
"Worst deep-state conspiracy ever," Comey wrote, sarcastically claiming that if the FBI wanted to derail Trump's chances at getting elected in 2016, the "secret" could have slipped out sooner: before voters took to the polls.
There are two sides to every story and considering politicians are on all sides of this story, the whole thing is probably full of lies.  George Papadopoulos says he was the victim of a deep state coup designed to take down Donald Trump.
Deep State Target is the only firsthand account that proves the attempted sabotage of Donald Trump's presidential campaign by American and international intelligence services, from former Trump advisor George Papadopoulos―whose global network and clandestine meetings about Hillary Clinton's hacked emails made him the first target of Spygate, the Mueller Investigation, and the Russian Collusion Hoax.

But as he explains in Deep State Target, there was an intricate set up at play, and it was neither Trump nor the Russians pulling the strings. –Deep State Target book descritption