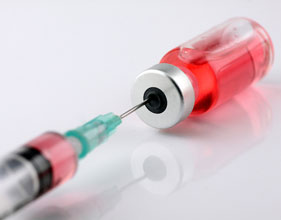 Here's the fraud of the State in action.
It seems that the Colorado Dept. of Public Health and Environment sent out a letter to parents demanding that those who have not vaccinated their children register them on a state website under requirement by law… the only problem is that there is no such law.
The agency has apologized, claiming the letter was sent out by mistake, but their intent was revealed anyway.
A law was proposed to require a "yellow star" registration process for families who don't vaccinate… but the law did not make it out of committee. Of course, that doesn't mean that the bill's sponsors will give up.
via Off the Grid News:
A number of parents received a letter this month from the Colorado Department of Public Health and Environment, which said in the document that parents of unvaccinated children in school would be required to register and exempt their child through a state website.

[…]"My biggest issue is that you are trying to take my child's information – that you have zero legislative authority to do – to track and to possibly come back to me," parent Missy Frazier said, according to The Gazette newspaper. "Where does this end, and with whom are you going to share this information?"
It is hardly surprising that the school district is being accused of deliberately spreading the misconception that parents are legally required to comply.
But it certainly looked official when it went out: Here's an image that was released of the letter: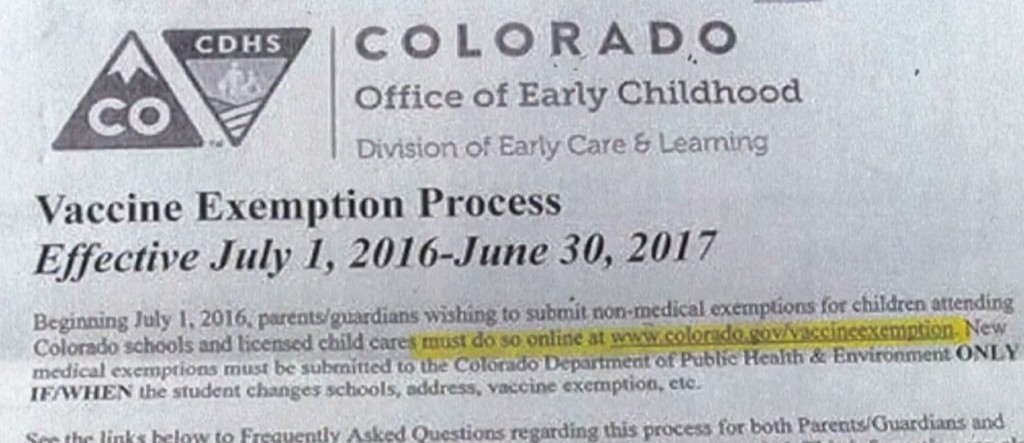 That is already that standard line with childhood vaccines – creating the impression that they are required, when freedom over medical injections should be  a personal decision protected by constitutional freedoms.
"I find it curious that the House has already killed 1164, whereas the health department has already implemented the provisions of 1164 in law on their website stating that by July 1, parents will be required to register online," Lundberg said. "This online registration system is in complete violation of current statute. They don't have the authority to require an online registration."

"They want to populate the vaccine registry and they want to know exactly who's exempting from which vaccines, where they live and I think it's a harassment technique," Theresa Wrangham of the National Vaccine Information Center told a Denver TV station.
Demanding data from people who opt out of any program in this country is akin to discriminating against them and allowing them to be targeted and tracked – and it is dangerous civil liberties, particularly as threats against non-vaccinating families is nothing new.
In particular, government agencies in general seem very disconcerted by the level of independence and rebellion by anti-vaxxers – there is every reason to think that they fear the herd will be spooked, and they could lose control over the masses.
When you consider that non-vaccinating parents are frequently treated as second-class citizens and targeted with misplaced anger about the spread of disease, it is not surprising that this law is being required – as California and other states have stepped up their pro-vaccine rhetoric and used the power of state mandates to pimp for Big Pharma.
Read More:
Parents to be Penalized Thousands for Not Vaccinating Kids: "No Jab, No Pay Policy"
Measles Police State: "Parents who do not vaccinate their children should go to jail"
Social Services To Family: 'Get Flu Shots Or We're Taking Your Baby'
U.S. Jails Lone Vaccine Researcher, While Fraud Remains Epidemic: "Perhaps Half May Simply Be Untrue"