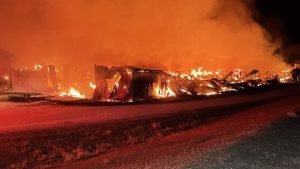 The "coincidences" that just happen to be devastating to the already depleted food supply continue. Two separate fires in Minnesota destroyed an agricultural equipment dealer and a chicken farm.
Over 200,000 chickens were burned in the fire at the chicken farm reducing the number of eggs that can be sent to markets. The chicken barn belonged to Forsman Farms, a major egg producer that sells three million eggs per day. The specific building that was destroyed sat on the company's Howard Lake farm and was described by a spokesperson as a "substantial facility."
Why are so many food processing plants and warehouses catching fire all of a sudden? And as I was sitting in the studio getting ready for the report… a plane crashed at a General Mills food facility in Georgia. I discussed the issue on Tucker Carlson Tonight. pic.twitter.com/QWJ3b6j65d

— Jason Rantz on KTTH Radio (@jasonrantz) April 22, 2022
The fire at the chicken farm occurred on May 28. A Minnesota Valley Irrigation facility also burned down in Wadena last week. Minnesota Valley Irrigation provides massive irrigation systems that keep fields watered during periods of insufficient rain. The blaze resulted in a total loss.
Although these two losses both occurred in the agriculture sector and similar incidents have garnered media attention around the United States, fact-checkers are sure there's nothing to be worried about. "There's been no significant increase in fires at food production facilities so far in 2022," reassures factcheck.org. The site has taken aim at Tucker Carlson for having a guest on his show in April who discussed a high-profile string of destructive events at food processing plants, according to the Tennessee Star.
"Accidental Fires" Continue To Happen At Food Processing Facilities All Over The United States
The mainstream media and fact-checkers are working hard to convince people that none of this is out of the ordinary, while they promote the slaughter of birds over avian influenza (bird flu) and remain adamant that the food shortages are being caused by Russia's "invasion" of Ukraine.
Another Food Supply Chain Issue: Wheat Prices Surge
Prepare now. Time is running out. The fires continue. The culling of birds continues. The continual and intentional destruction of the food supply chain hasn't slowed.