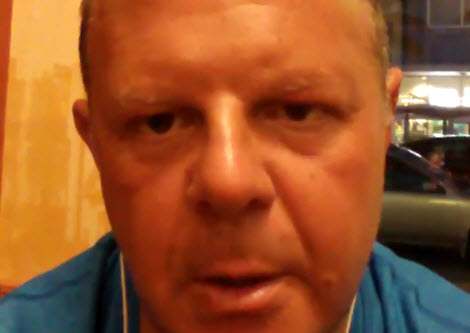 This article was written by Lily Dane and Melissa Dykes and originally published at The Daily Sheeple.
Editor's Comment: There is an abundance of creepy, foreboding anomalies and events taking place ahead of the inauguration. Is something chaotic going to happen? Will an attempt be made on Donald Trump's life? There shouldn't be any reason to think so, despite plenty of people who dislike or hate the president-elect. Hopefully that is certainly not the case.
Nonetheless, proper protocol should be in place. But if for any reason it isn't, the magnifying glass will turn around on the intelligence community officials that Trump has defied, and those who have been connected to the sources of contention and disorder – in this case, a man, possibly deranged, with conspicuously close ties to the woman who was almost elected president instead, and desperately wanted the job.
Such a move would be drastic, and unprecedented, and very transparent. Nonetheless, it would surely plunge this country into very difficult constitutional questions, and a battle for who retain control of the country. Civil disorder, riots and even civil war is at stake. Short of that would surely come a chaotic battle for a successor, for special elections, and a reassessment of everything that has gone wrong.
Why are we even contemplating this nightmare? Ask those who've been dangling the suggestion of it in the media for the past several weeks; those who've joked or sniped about a coup against the president-elect, and those who would use fear to rule, and intimidation to undue anyone who would challenge an order based on fear. There are many sides to this story, and even more who stand to gain.
"I am following orders": Clinton Family Friend Threatens to Assassinate Trump — on Video
by Lily Dane and Melissa Dykes
Dominic Puopolo, a 51 year-old Florida resident, was arrested by Miami Beach police Tuesday for allegedly threatening to assassinate President-elect Donald Trump in a video he admitted to posting on Twitter.
In the video – which is posted below – Puopolo says, "Yes, I'll be at the review stand at the inauguration and I'm going to kill President-elect Trump. What are you going to do about it, Secret Service?"
Then he went on to say he has four children with three wives and that "my other name is the Lord, Jesus Christ. What are you going to do about it? I challenge you. This is not the way. I am following orders."
Puopolo was arrested and charged with threatening to kill a public servant after leaving a Washington Avenue Subway sandwich shop on Tuesday afternoon.
But who is Puopolo?
Puopolo is a member of a prominent northeast family that is close to Bill and Hillary Clinton.
He reportedly lost his mother on Sept. 11, 2001. According to her obituary, Sonia Mercedes Morales Puopolo, 58, died on September 11 on American Airlines Flight 11. She was described as "an internationally recognized leader in philanthropy and politics as well as a patron of the arts, devoted herself to enriching the lives of others." Her obituary also says, "With her husband, Dominic, Mrs. Puopolo contributed significantly to the Democratic Party and was a top backer of the election efforts of former president Bill Clinton and Senator Hillary Rodham Clinton."
According to The Daily Mail, she was sitting two seats away from terrorist Mohammad Atta.
The story takes an even more bizarre turn: Workers at the World Trade Center site miraculously found Sonia Morales' hand — with her wedding band still on it — 11 months after 9/11 and returned the band to her daughter, Sonia Tita Puopolo. The ring is said to have been found unaffected, buried under 1.6 million tons of smoldering steel, rubble, and rock that had laid on top of it all that time.
Hillary Clinton personally delivered her eulogy… where Puopolo sat two seats away from Clinton.
Hillary Clinton sits with the Puopolo family at the funeral of Dominic Puopolo's mother Sonia
Puopolo once posted a photo of himself holding an image of his mother in front of a wall that sports a picture of him with Colin Powell and a famous shot of Ronald Reagan. Puopolo has published a number of pictures of outgoing Secretary of State John Kerry, whom he calls a friend.
Dominic Puopolo posted this picture of President Clinton with his sister Sonia (left) and his mother Sonia, who was killed in one of the planes that flew into the World Trade Center
The family is also known in political circles for its generosity toward Democratic organizations and candidates:
The threat suspect, according to federal elections records, gave $20,000 to the Democratic National Committee in 1996. He also contributed to Kerry and deceased Sen. Ted Kennedy in the mid-1990s. His name popped up again in contributions in 2006 when he gave $4,000 to Florida Sen. Bill Nelson's campaign.

His sister Sonia gave $4,000 to Hillary Clinton's various campaigns.
Dominic's sister Sonia has been close with the Clintons ever since.
She is well-known for writing a book about her mother's ring called Sonia's Ring.
Is Puopolo Hillary's John Hinckley Jr.?
It is well known the Hinckley family had close ties the Bushes, and John Hinckley Jr. (who was recently freed after 34 years in prison) attempted to assassinate President Ronald Reagan.
Now we have a man who has copious ties directly to the Clintons threatening to assassinate President-elect Donald Trump.
The Daily Mail reports that there is evidence that Puopolo was the target of mental health court proceedings in 2016, although the details have not been made public.
So what happened to him? This man obviously wasn't always like this. Vanguard reports,
Dominic Puopolo previously wrote for NBC Dateline that he traveled to Germany for the trial of Mounir el Motassadeq, convicted of the 9/11 attacks, because he was "moved to protect our country and seek justice against our enemy".
His Twitter account @jesuschrist1701, where the video threat against Donald Trump was first posted, is home to dozens if not hundreds of Tweets directly to the CIA and many sound like they are were sent out by a crazy person in some kind of military code. His first Tweet on the account appears to be dated September 21, 2016.
Here he is week ago telling the CIA to "be prepared to avoid the inauguration" and asking them "let me contact my family… just monitor my feed":
It's like he believes he is on or training for a mission.
My 12 says ROGUE moving pic.twitter.com/IinQyOBfNE

— LORD JESUS CHRIST (@jesuschrist1701) November 2, 2016
He directly refers to himself as God and Jesus multiple times.
CIAKEEPFUCKINGWITHGOD

— LORD JESUS CHRIST (@jesuschrist1701) September 27, 2016
The man is displaying hallmarks of what some people would call schizophrenia and paranoid delusions for sure… but he's also displaying characteristics of what others would call a "targeted individual".
"My soul is what you have taken from me…"
MYSOULISWHATYOUHAVETAKENFROMMEFEELDRAINEDRYANOUTFORTONIGHT

— LORD JESUS CHRIST (@jesuschrist1701) September 25, 2016
This one references assassinated Egyptian president Anwar Sadat:
"Operation Reciprocities Reciprocities biologically weak subjects found no way 2 stop impulse to kill God only answer is all evil I am ok Anwar Sadat Lets make deal swap"
OPERATIONRECIPROCITIESRECIPROCITIESBIOLOGICALLYWEAKSUBJECTSFOUNDNOWAY2STOPIMPULSETOKILLGODONLYANSWERISALLEVILIAMOKANWARSADATLETSMAKEDEALSWAP

— LORD JESUS CHRIST (@jesuschrist1701) September 24, 2016
This goes on and on. The man managed to send out 11,700 Tweets in just a few months. Puopolo also regularly Tweets out pictures of clocks, like he's checking in. Sometimes he even names names.
He also told police he is homeless… but he used to donate tens of thousands to the Clintons and obviously has money and a cell phone to make videos, send Tweets and eat at Subway.
Following orders
In his final video, Puopolo says, "I am following orders".
Whose orders? Who told him to threaten to assassinate Trump?
It will be a surprise if it doesn't come out after his psychological evaluation that he was hearing voices, and yet, just as we've seen in similar previous cases, Puopolo at 51 is well past the age when schizophrenia symptoms would typically manifest.
A few weeks ago we reported on Iraq war vet Esteban Santiago who claimed the CIA was controlling his mind and forcing him to commit a mass shooting. He was arrested after he reportedly shot up the baggage claim at Ft. Lauderdale International Airport, killing five random strangers after he personally warned the FBI he was afraid he was going to be forced to commit mass violence.
His claims are similar to claims made by Florida University Library shooter Myron May and Navy Yard Shooter Aaron Alexis who both claimed they were targeted and driven insane by the government to commit mass violence.
Eerily, you will find stories similar to these going back for decades. In 1991 for example, Carl Campbell shot U.S. Navy commander Edward Higgins at a bus stop outside of the Pentagon at least five times with a 22-caliber semi-automatic pistol for seemingly no reason. The federal judge who oversaw the case found Campbell not guilty by reason of insanity when it later came out that Campbell believed the government had implanted a computer chip in his brain to control his mind.
On top of that, there are patents for weapons that can beam voices into people's heads, otherwise known as "Voice of God" weapons. It seems we live in a world where faux schizophrenia can be caused.
The inauguration is tomorrow
Not only does this threat come just days before the inauguration, but it comes weeks after another man claimed he was ordered to assassinate Donald Trump and killed a random stranger in a Walmart parking lot whom he believed (and reportedly still believes) was the president-elect. A British teen was arrested this summer for attempting an assassination on Trump at a Las Vegas rally as well.
We aren't even to the actual inauguration yet, and already it's shaping up to potentially be the most violent in American history. Weapons caches including homemade silencers have been found in the DC area, and Secret Service says they've had to drill for this one unlike any inauguration before it.
The whole world is watching. What is going to happen tomorrow?
This article was written by Lily Dane and Melissa Dykes and originally published at The Daily Sheeple.