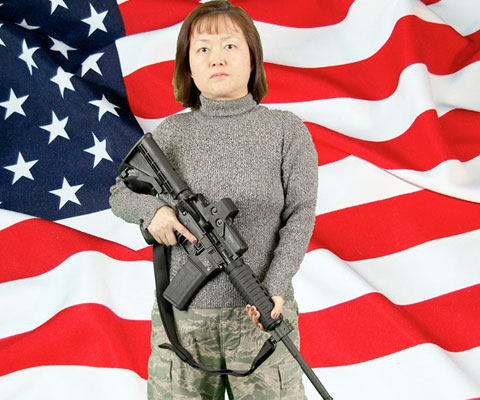 President Obama knows that the American people have not embraced his radical, leftist gun control agenda.
That's why he took to the stage at a town hall spectacle hosted by CNN's Anderson Cooper in attempt to defend his unconstitutional executive actions for stealth gun control, and try to convince Americans once and for all that he is not enacting some kind of gun grabbing conspiracy.
But his "common sense" policies – made law under the force of executive order – and his crocodile tears for exploited victims of gun violence are not going to shift pubic opinion.
There is clearly a line in the sand, and a bold Chinese immigrant, who became an American citizen by choice, is the latest to remind the government what it shall not infringe.
Lily Tang Williams happens to be the state chair of the Colorado Libertarian Party and has made a splash with her January 5th Facebook post, which has now received thousands of comments and shares. Williams vows to defy all government attempts at disarmament, citing the authoritarian abuses of China, her native country.
She declares, "I will always stand with my AR, no matter what my President signs with his pen."
Lily Tang Williams posted this on her Facebook account with the above picture of her holding a rifle against the backdrop of an American flag:
If you believe more gun control by your government is going to save lives, you are being naïve. The champion of all the mass killings in this world is always a tyrannical government.

Where I came from, China had killed thousands of the students by its own government during the massacre of Tian An Men square in 1989. I surely wish my fellow Chinese citizens back then had guns like this one I am holding in the picture.

I am a Chinese immigrant and an American citizen by choice. I once was a slave before and I will never be one again.

I will always stand with my AR, no matter what my President signs with his pen.
Posted by Lily4Liberty on Tuesday, January 5, 2016
Chinese immigrant on recent Obama's gun control move: "I once was a slave before and I will never be one again" pic.twitter.com/c6GYokIjQI

— Wisconsin 4 Guns (@Wisconsin4Guns) January 7, 2016

Live free, or die standing on your feet.
Lily Tang Williams has actually lived as a slave under an oppressive government, and like other immigrants who came to the U.S. fleeing such conditions, she is appalled at seeing the same pattern come home to America.
But it isn't over yet.
By the look of determination in this freedom fighters' eyes, the resistance won't soon die, and government will still face an intense fight if it intends to completely eradicate freedom.
Despite decades of indoctrination and mass media propaganda, millions and millions of Americans are still aware of what this country was founded upon, and what principles it stands for.
And. They. Will. Never. Give. Up. Their. Guns. Period.
Read more:
Confiscation Is Coming: Obama To Issue Executive Order Targeting 4.2 Million Retirees With Massive Gun Ban
The Prepper's Blueprint: The Step-By-Step Guide To Help You Through Any Disaster
The Watchlist Gun Bans Begin: Obama Enlists Governors to Bypass Congress: "By Executive Order"
The Push For Full Disarmament of America Has Begun: "Outright Gun Ban and Mass Confiscation Once and For All"