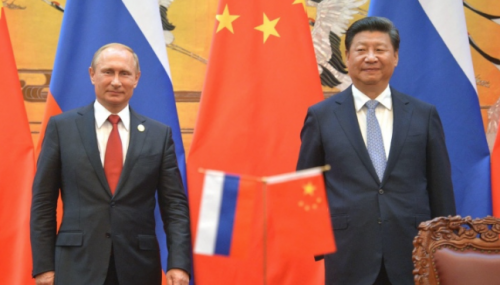 The Chinese ruling class is backing Russia's ruling class as the United States continues to issue sanctions as a way to "punish" Moscow.  China says it will work with its counterparts in Moscow to protect against external interference.
The Chinese are also warning Washington to take a different approach instead of issuing sanctions against Moscow. Recently, the tit for tat between the U.S. and Russia has severed whatever relations were left between the two sets of political rulers.  And China has chosen their side.
We had all better hope Joe Biden doesn't lose his mind and start something sinister with Russia.  Now that China has chosen its side, this could put the U.S. in a bad spot, and it won't be the rulers who suffer, it'll be us.
Speaking to journalists on Monday, Chinese Foreign Ministry spokesman Wang Wenbin said his government was "strongly opposed to the use of unilateral sanctions" and would work with its allies to reduce their impact, according to RT.  "China and Russia maintain a comprehensive partnership with each other," the official said. "In matters of protecting state sovereignty, the People's Republic of China and Russia will support each other."
U.S. & Russia Relations Hit All-Time Lows
Biden Administration Ramps Up Tensions With Russia, Institutes Sanctions
White House National Security Advisor Jake Sullivan said the package of sanctions was made up of "proportionate measures to defend American interests in response to harmful Russia actions, including cyber intrusions and election interference." The Kremlin has said it is still considering its response, with President Vladimir Putin's spokesman, Dmitry Peskov, saying "the principle of reciprocity in this matter hasn't been canceled." He implied that Moscow could soon put in place its own measures against the US, but cautioned that "everything now depends on the decision taken by the head of state," and that no approach had yet been agreed.
Russia's most senior diplomat. Sergey Lavrov, warned that "the United States has declared its mission is to limit the technological development opportunities of both the Russian Federation and the People's Republic of China." He plans to further destroy and destabilize the already precariously balanced U.S. economy.  Lavrov says Russia will de-prioritize the use of American financial systems, by "switching to settlements in national currencies and in world currencies as an alternative to the dollar." Lavrov added that "we need to move away from the use of Western-controlled international payment mechanisms."