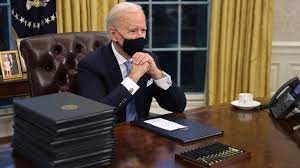 The Biden administration is ramping up the already bowstring tight tensions between the United States and Russia by issuing new sanctions.  Biden signed a decree on Thursday targeting more than 30 individuals and organizations.
The White House also moved to expel nearly a dozen of Moscow's diplomats as ongoing tensions between Russian and Ukraine flare while the ruling class of the U.S. vocally is taking the Ukrainian side.
The move, which the White House says is in response to alleged interference by Moscow in the 2020 US presidential election, will see American companies banned from directly buying shares in Russia's national debt, according to a report by RT. 
The Kremlin has consistently denied that it made any attempt to meddle in the contest, and there is no real evidence that they did. Sanctions have also been linked to the colossal SolarWinds cyber-espionage case, which Washington also claims Russia was behind.
Ukraine Demands "More Weapons, More Money, More Support To Join NATO" From Biden
Earlier this month, the country's Deputy Foreign Minister Alexander Pankin warned that the US may resort to attacking bonds as part of "a deliberate calculation to create a toxic atmosphere around Russian securities in order to reduce their investment potential." He added that Moscow was already working to create a battle plan to limit the effect such sanctions would have on the economy.

White House National Security Advisor Jake Sullivan defended the move later on Thursday, saying that the package of sanctions comprised "proportionate measures to defend American interests in response to harmful Russia actions including cyber intrusions and election interference." -RT
Ten of Moscow's diplomatic representatives in the U.S. have now been declared persona non grata and ordered to leave the country. Before the decision to expel the diplomats was announced, Alexey Chepa, the deputy chairman of the Russian parliament's international affairs committee, warned that such a move would lead to a tit-for-tat expulsion from Moscow. "If Russian envoys are expelled," the MP said, "naturally there will have to be a mirror-image response."
Foreign Ministry spokeswoman Maria Zakharova told reporters that the US ambassador in Moscow, John Sullivan, had been summoned for talks. "We will share with you an update on the results of this conversation, which will be difficult for the American side," she said. -RT
It sure looks the Biden administration wants to march the U.S. straight into a war with Russia. Things continue to intensify and de-escalation looks more and more unlikely by the day.