This article was originally published by Tyler Durden at ZeroHedge.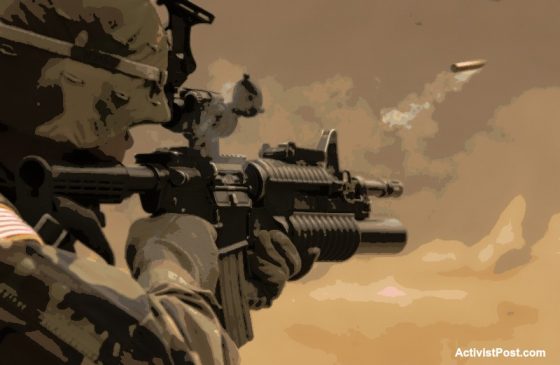 Naturally, a CNN camera crew was in tow for last week's visit of Ukrainian President Volodymyr Zelensky to an area near Mariupol in Donetsk where he "walked the front line with the troops" amid renewed fighting with Russian-backed separatists in the eastern Donbass region.
Days later CNN's homepage dramatically hyped the story with a recent headline of "Ukraine's President runs for cover on the front line against Russia". The story kicks off with: "Ankle-deep in thick black sludge, Ukrainian President Volodymyr Zelensky moves stealthily with his troops in single file through the warren of trenches and tunnels that form the tense front lines in the east of his country."
And the front line feature gets even more dramatic from there: "It feels more like the early 20th century than a modern conflict, with tired, nervous soldiers gripping their rifles around him as they reach the open ground, scanning the area for movement across no-mans-land," the CNN correspondent reports. "They know snipers, likely trained by Russians, say Ukrainian officials are looking for a chance to fire. More than 20 of their comrades have been gunned down already this year."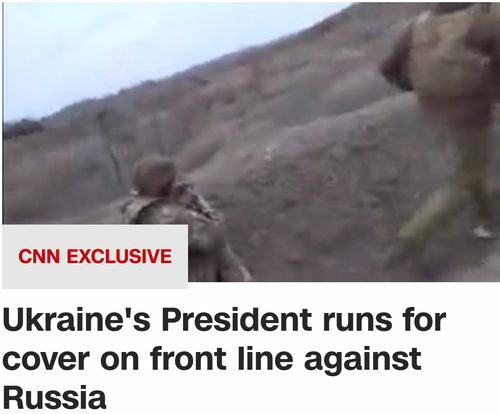 But more important and hugely revealing in terms of what's perhaps the real purpose of the CNN puff piece portraying Ukraine's former comedian-turned-president (and now apparently an 'action hero' of sorts) is the following section…
On board the aging presidential chopper, which retains a degree of well-worn comfort, Zelensky shouts above the engine noise of how the US is a "good friend" of Ukraine, but that President Biden "must do more," to deter Russia and help bring this conflict to an end.

More weapons, more money to fight, and, crucially, more support to join NATO, the Western military alliance where an attack on one member commits all to respond, he explained.

"If they [the US] see Ukraine in NATO, they have to say it directly, and do it. Not words," Zelensky told CNN.
Curiously, the interview was published the same day that NATO's Ukraine council announced its Tuesday meeting to consider the rise in tensions on the Ukraine-Russia border, coming after widespread accusations the Kremlin is mustering a nearly unprecedented number of troops there – numbers not seen since 2014, according to US officials.
It also came as the Group of 7 foreign ministers issued a statement earlier this week condemning Russia's "destabilizing activities" in the region.
The G-7 statement urged for Russia to "cease its provocations" on the Ukraine-Russia border and said they are:
"…deeply concerned by the large ongoing build-up of Russian military forces on Ukraine's borders and in illegally-annexed Crimea."
US Secretary of State Antony Blinken also spoke by phone with NATO Secretary-General Jens Stoltenberg on Monday, with the two also reviewing Russia's "aggressive military buildup along Ukraine's borders and in occupied Crimea," according to a State Dept. statement.
So by all appearances and with these latest appeals out of the West, things don't look to de-escalate anytime soon – instead, tensions remain on a knife's edge.