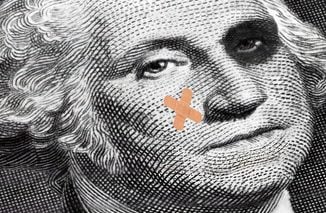 One of the most threatening issues facing the United States today is the government's massive debt. Instead of figuring out how to fix the problem, politicians want to spend more money selling future generations into slavery to do so.
Budget talks have stalled as the political elites fail to figure out how to live within their means; or not spend money they haven't yet stolen from the public. "We are taking sequester off the table. We are prepared to do a one-year CR (continuing resolution) with a one-year debt ceiling," said Treasury Secretary Steven Mnuchin. "The president has every intention of keeping the government open."
Democrats are blaming Republicans and Republicans are blaming Democrats for both the soaring deficits and the inability to reach an agreement to "keep the government open" yet.  Keeping it open would come with massive deficits, soaring public debt, and money printing to fund the debt. It will also mean that in the near future, the United States will pay more for interest on the debt than they do for defense.
The dollar's value is doing to decrease rapidly in the coming years in the wake of the government's disastrous spending, especially as other countries continue to devest and stockpile gold.
Senate Minority Leader Chuck Schumer (D-N.Y.) panned Mnuchin's plan and blamed Majority Leader Mitch McConnell for sticking with the White House position. "A one-year CR is bad policy, it's bad politics and it's a fallback. We should be negotiating a bill," Schumer told reporters. "We want to do better." Democrats have further said that Republicans were reluctant to do anything to get ahead of President Donald Trump, while Republicans said they couldn't get a serious counteroffer from their Democratic counterparts, according to a report by Politico.
The only thing both parties agree on: spend more money. Both parties in Congress will avoid cuts of $55 billion to domestic spending and $71 billion to defense spending. But there is sharp disagreement over how to do that, with the administration seeking to keep spending from rising any further given the yawning annual budget deficit. But by proposing a continuing resolution, the administration would scuttle the annual congressional appropriations process, a key bipartisan priority in the House and Senate.
Republicans have said that Pelosi is inflexible. Her chamber is moving its own spending bills that seek to raise domestic spending. An administration official said Pelosi made no counteroffer beyond sticking to those numbers; Mulvaney said Pelosi was asking for more money than she was a month ago when budget negotiations stalled.
Regardless of the outcome, the government's debt will rise and eventually be too big to kick the can down the road any longer.
https://www.shtfplan.com/headline-news/peter-schiff-the-real-national-emergency-isnt-at-the-border-its-the-national-debt_02212019
Americans have become far too comfortable with selling their children into slavery to the government because of the debt, and they continue to be oblivious to what they are doing.